Miami-based creative shop Alma Ad announced an expansion of their management team after winning 9 new accounts that fueled the agency's growth by one-third in just two years.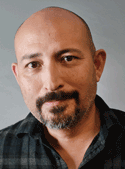 Jorge Murillo, who has been a key player in winning the agency's total culture and general market accounts like BCBS, Tobacco Free Florida, and Harken Health, is now VP, Executive Creative Director. Murillo has led several award-winning campaigns in his seven years at Alma with work that speaks to all consumers through a multicultural lens, like the recent McDonald's "Employer Reputation" 360 campaign for all markets, digital and in-store collateral. Most recently, his work on Tobacco Free Florida's "Auctioneer & Tobacco Downs" radio ads won four Cannes Lions in 2016.
In his new role, Murillo will lead the McDonald's creative teams and co-create with McDonald's new agency model We Are Unlimited. He will also oversee projects on the rest of Alma's total culture brands moving beyond universal and even Hispanic insights, focusing on the specific cultural differences that drive business growth.
"While we encourage the new perspectives & skill sets external hires can bring, a large part of our culture is to strive to seek growth & promote from within," explained Luis Miguel Messianu, Creative Chairman, CEO. This is especially the case when our values of curiosity, collaboration and accountability are demonstrated."
Other recent additions to Alma's leadership team are an exemplary blend of in-house development with fresh external talent. Angela Rodriguez, who has been with Alma for 14 years and started as an Account Executive, was promoted to VP of Strategic Insights last year. VP of Digital Michael Sotelo was recruited from Facebook recently along with VP Group Account Director Beatriz del Amo, who previously led accounts like P&G and General Mills for Conill Miami.
"We're very proud of our success, but it also means our expectations for 2017 are that much higher," explains Alvar Suñol, Co-President, Chief Creative Officer. "We can't allow ourselves to get complacent, and we will keep working hard and having fun, making sure we have good people with the best talent on our team."