Brands don't want to associate with content that makes them look bad in any way
Last year's brand safety controversies stirred fears that advertisers would back away from platforms like Facebook and YouTube, but spending has continued to surge.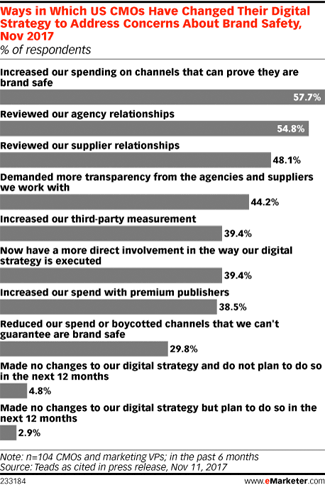 Looking for stats and a visual overview of the US Retail Industry? Download eMarketer's Us Retail Industry StatPack for over 25 pages of charts, trends and forecasts that you can keep at your fingertips all year long.
Indeed, US advertisers continue to pour more than nine in 10 new digital ad dollars into the Facebook-Google duopoly.
Still, virtually all brands are making changes in how they operate in digital media to be safer going forward. This includes demanding more transparency and investing more ad dollars in quality environments.
According to November 2017 data from Teads, more than nine in 10 US CMOs surveyed had already begun making changes to their digital strategy due to brand safety concerns.
"Conversations with brands, ad tech firms, programmatic partners, publishers and platforms suggest all are making moves in this direction thanks to brands' reawakened concerns about safety," said senior analyst Nicole Perrin, author of a new eMarketer report, "The Brand Safety Dilemma: Looking Beyond Scale and Efficiency to Quality, Context and Common Sense."
Courtesy of eMarketer