Third-party verification can't come too soon to digital media, as the combination of bot fraud, fake news and audience restatements has 50% of marketers saying they will no longer place advertising on a platform they consider risky. That's according to a private survey Advertiser Perceptions conducted with 399 advertising executives – 60% at agencies, 40% at marketers – representing the country's largest spending advertisers.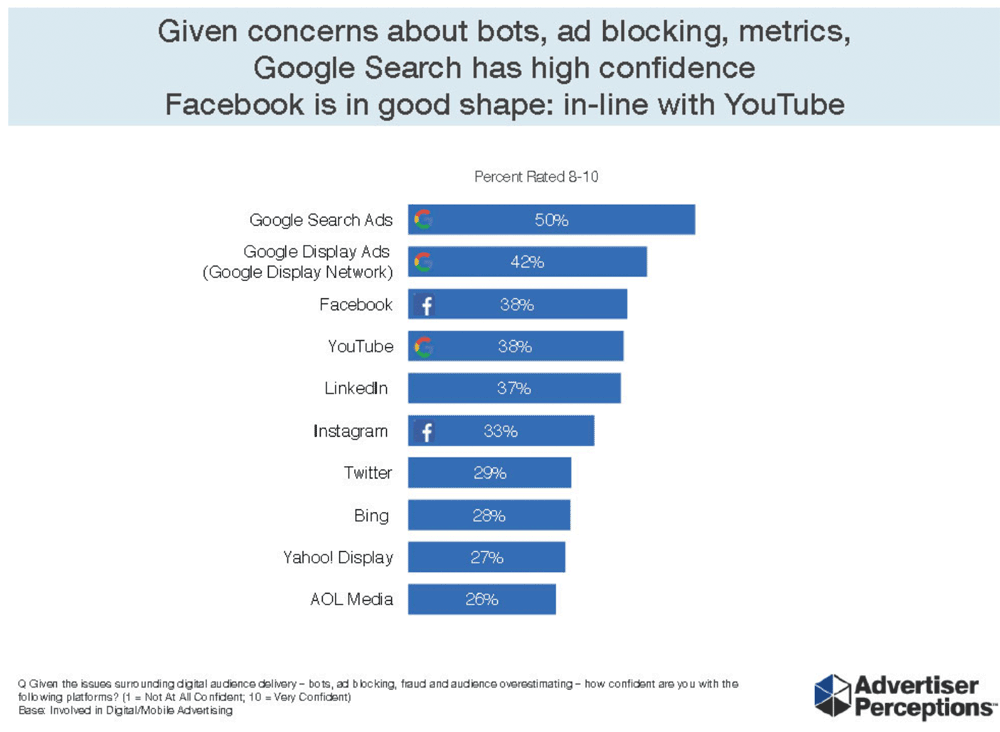 "Digital advertising platforms can't assume that trust issues will blow over," said Kevin Mannion, Chief Strategy Officer at Advertiser Perceptions. "No matter what is being said in meetings or from conference stages, the biggest ad buyers are clearly apprehensive."
With the sole exception of Google Search, advertiser confidence in digital/social platforms runs significantly below 50%. "Google Search is the de facto standard of a buy you can't question," said Mannion. "The analytics are pure and anyone can see them on a dashboard."
Social media is a different story. "With social media in general, there's too much unknown," said one marketing executive, echoing a mounting unease over reporting.
In the wake of audience restatements by Facebook, the importance of trust is evident with two-thirds of advertisers reporting they are questioning their investments with that popular social platform.. Of those, 40% plan independent audits of Facebook's audience and ad delivery.
"Facebook can't go whistling in the dark now," said Mannion. "While they've built up too much goodwill and success for the metrics restatements to automatically erode spending, they need to take the lead in third-party verification."
Trust issues aside, 84% of advertisers said they intend to increase spending this year with Facebook and/or Google, which have set themselves apart from the digital pack in scale. Several emerging platforms are making compelling cases for increased spending, most notably Instagram and Snapchat.
To download report CLICK HERE.
About author: Frank Papsadore
Frank brings extensive media industry and advertising agency expertise to Advertiser Perceptions, namely as a top-level executive at Ziff-Davis, and Papsadore Direct / Direct Results Group, the advertising agency he co-founded in 1992. His clients included Ziff Davis, Softbank, IDG, CMP, Microsoft, Intel, Saucony, IDG Books' For Dummies, Comcast, Verizon, and literally hundreds of other leading and emerging companies. Frank lives on Cape Cod with his young son Max, and his black and tan coonhound Zippy.