Kids are an anomaly of the digital era. As the younger end of Gen Z, they are digital natives. But aside from tweens, few have smartphones, and their involvement in social media is marginal. Instead, their digital activity is dominated by digital video. The sheer amount of their screen time can feel like a crisis to many parents.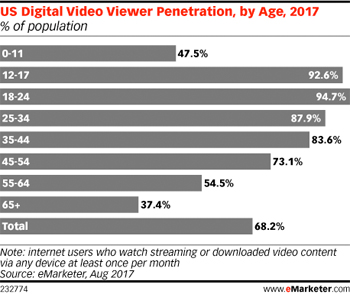 They rely heavily on digital video for entertainment. Nearly half of US kids ages 11 and younger are digital video viewers. Those ages 8 and younger are more likely to be in households with subscription video than with cable TV.
It would be hard to overstate the importance of YouTube in kids' digital mix. One survey shows 45% of 8- to 12-year-olds in the US have YouTube accounts. Another identifies two-thirds of those ages 10 to 12 as users.
eMarketer estimates that 47.5% of kids in the US ages 11 and younger will be digital video viewers this year. Though lower than the penetration rate for most adult age brackets, this is a robust figure for a population that includes newborns.
Courtesy of eMarketer