Americans are spending more time within mobile apps and less time within mobile browsers. However, the number of apps being used regularly is dropping, as users concentrate their activities in core apps.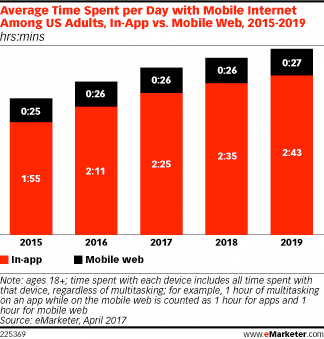 In 2017, the average US adult will spend 2 hours, 25 minutes per day using mobile apps, a jump of 10.3% over last year, and slightly higher than previously forecast.
That means time spent with mobile apps will reach 19.9% of average daily total media time this year.
Among mobile internet users, mobile apps will account for 84.9% of total mobile time spent, with mobile web browsing making up the remainder. Meanwhile, time spent with a mobile browser is expected to remain stagnant at 26 minutes per day in 2017.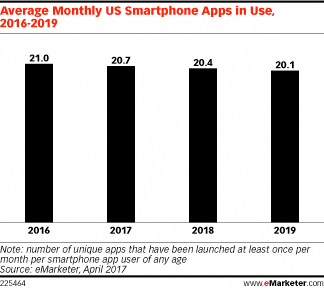 "American consumers spend the bulk of their app time conducting five activities: listening to digital audio, social networking, gaming, video viewing and messaging," said eMarketer principal analyst Cathy Boyle.
"Each of these are time-intensive activities that consumers conduct with a high level of frequency," she said. "An app provides a direct access point from the home screen of a mobile device, and a native app experience is typically slicker and faster than a comparable web experience."
As Americans' in-app time goes up, the number of apps they're using is slowly declining.
In 2016, US smartphone users used an average of 21 apps per month on their smartphones. By the end of the forecasting period, that number is expected to drop to 20.1 apps.
App usage is mainly concentrated within social networks, Google and utilitarian apps, such as maps and messaging apps.
"Major publishers are combining multiple functionalities into their apps, contributing to the gradual consolidation of the app market," said Jaimie Chung, forecasting analyst at eMarketer.
Not surprisingly, Facebook is one of the core apps Americans are using. Time spent on the social network is growing, but only on mobile.
For example, US adults' average time spent per day on Facebook via a desktop or laptop will be stagnant this year at 6 minutes, while time spent on mobile will grow in small increments—1 minute more in 2017 to 17 minutes, and another 2 minutes next year.
Much of this is being driven by video consumption, especially live video, on the platform.
Courtesy of eMarketer