Inching toward digital maturity isn't an easy path for most marketers. According to data from MIT Sloan Management Review, in collaboration with Deloitte, many executives and managers worldwide know there are steps their organizations need to take to increase their company's digital maturity.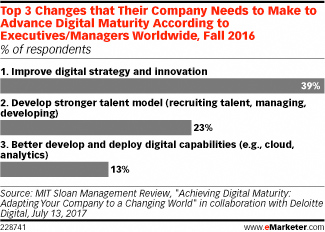 What makes organizations digitally mature? For one, the Sloan/Deloitte report argued, they implement systemic changes in how they organize and develop workforces and aim to nurture digital minded cultures and experiences within their organization.
And unlike less digitally mature companies, those that take a more digitally mature approach focus on the long-term, meaning they look to see where they'll stand five years from now, for example.
Making sure you have the right talent and securing people within the company who have the vision necessary to lead a digital strategy is also key.
Many marketers, however, feel they lack fall short in these areas.
Nearly 40% of respondents said their company needs to improve digital strategy and innovation. Another 23% said their organization needs to develop a stronger talent model, like recruiting better people, as well as managing and developing their progress.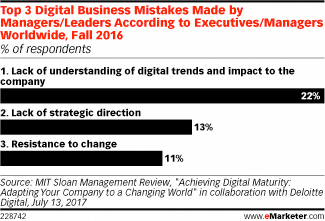 Meanwhile, 13% said their company needs to better develop and deploy digital capabilities, such as cloud and analytics.
When asked about the biggest mistakes managers and leaders within their organization make with respect to digital, many felt their company lacked a solid understanding of digital trends and how they affected their organization.
Lack of strategic direction and resistance to change where two other criticisms mentioned.
Despite these hurdles, most marketers agree that a digital transformation is necessary to not only remain competitive, but also to keep pace with disruptive technologies and evolve with shifting consumer expectations.
Courtesy of eMarketer