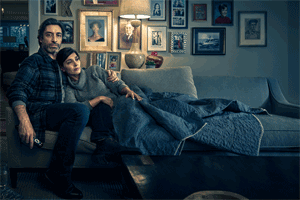 Men represent 2 out of 5 of the more than 40 million unpaid family caregivers in the U.S., but very few reach out for support. To help male caregivers get the tools and resources they need to take care of themselves and their adult loved ones, AARP and the Ad Council are refreshing their Caregiver Assistance campaign. Today they are releasing their first-ever PSAs targeting male caregivers, created pro bono by DDB New York and featuring character actor Danny Trejo.
As men continue to take on caregiving roles, they are looking for specific information and support tailored to their needs. According to AARP's report "Breaking Stereotypes: Spotlight on Male Family Caregivers," more than half (63%)of male caregivers are the primary caregiver for their loved one. Due to cultural pressures and a lack of prior experience, more than half (54%) of all male caregivers report finding it difficult to help loved ones with intimate care needs such as feeding, dressing and bathing.
"Many male family caregivers see themselves simply as sons, spouses and friends caring for someone they love," said AARP Public Policy Institute Vice President Jean Accius, PhD. "Through this campaign, we want to recognize and provide the tools and support these male family caregivers need in this vital role."
The latest evolution of the Caregiver Assistance campaign, created by DDB New York, aims to help men recognize themselves as caregivers. The PSAs direct viewers to AARP's online Caregiving Resource Center at www.aarp.org/caregiving, where caregivers can access Care Guides tailored to specific topics and challenges, such as caring for a loved one with dementia, as well as other practical tips and tools.
"Through research with male caregivers, we unearthed the insight that being a caregiver requires a unique kind of strength—like stoicism and inner fortitude—that goes beyond the traditional expectations of male toughness," said Icaro Doria,Chief Creative Officer of DDB New York.
The PSAs celebrate this strength and re-examine what it means to be tough by featuring Danny Trejo, who is known for his "tough" persona. As Trejo shaves his face with a machete, lifts a car, and unflinchingly faces a kitchen fire, a caregiver shaves his father's face, lifts his father from his chair, and lovingly prepares a meal – earning Trejo's admiration as "the toughest guy on the planet."
"I've helped care for a friend of mine who had cancer, so I know how hard it can be," said Trejo. "Being a caregiver takes total dedication, absolute love, and unbelievable toughness. I'm proud to do what I can to support them."
The PSAs include the tagline "Caregiving is tougher than tough," underscoring the message that caregiving is a demanding job, and caregivers deserve help and support.
"Caregivers are everyday heroes, and they shouldn't have to undertake this journey alone," said Lisa Sherman, President and CEO of the Ad Council. "We're thrilled to continue this campaign to help ease the burden of caregiving and shine a light on the amazing, tough, and loving work done by caregivers."
The PSAs will be distributed to more than 33,000 media outlets nationwide and will run exclusively in donated time and space, per the Ad Council's model. They are available in TV, radio, print, outdoor and digital formats. Social media creative will also soon debut on Facebook, courtesy of Facebook's donated media support for the Ad Council.
Since the Caregiver Assistance Campaign launched in August 2012, the campaign has received over $193.3 million in donated media and the Caregiving Resource Center has received more than 35 million visits.