One central theme running through the content marketing sessions at the Social Media Week conference this week in New York can be summed up with a question: Are brands spending too much money on the wrong content?
It's a question that must keep many a brand marketer up at night. And it's not easily answered.
"Everyone is trying to figure out how much is the right amount [of content]," Noah Brier, co-founder and CEO of social media marketing company Percolate, said in a session called "The Spiraling Cost of Content."
"All we know is it's more than it used to be, and budgets aren't growing [fast enough]. Brands are asking [their creative] partners to create 10 times the content, but they don't have 10 times the money to support it," he said.
A related challenge is the disproportional breakdown of what brands spend on content creation vs. content distribution.
Developing infographics, videos and other high-production-value content can be costly, but only 10% of the technology investment brands make is geared toward creating content, while 90% is allocated to marketing it, according to Brier.
"The problem with that is 90% of the impact comes from content creation, not distribution," he said.
In addition to balancing the investment equation, Brier said that brands should hold their partners—and themselves—more accountable for creating the right content for their brand, not just using a traditional format because it has been effective for other companies.
"One brand we work with recently told us they believe they wasted $2 million to $3 million on off-brief creative, and felt that their agency was at fault," Brier said.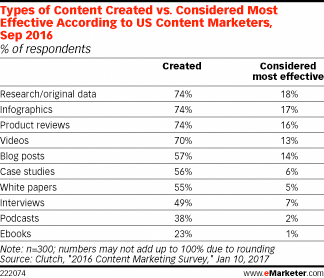 Brands that produce their own content in-house are not particularly satisfied, either, according to data. For example, research from Clutch, a B2B software and professional services recommendation firm, surveyed US B2C content marketers in September 2016 about content marketing and found that the content they produce the most isn't necessarily the content they found most effective.
Infographics was the type of content used the most, cited by 76% of those polled, while product reviews and research were named by 75% and 74% of respondents, respectively. Some 72% of content marketers said they produce video.
When it comes to driving action and sales, the same study found that only 17% of US content marketers who worked at B2B and B2C companies considered infographics to be the most effective content, and just 18% said research was.
Commenting on brands creating content, Cara Friedman, head of social media at fitness company ClassPass, said, "Brands publish a lot of content, up to 10 times a day. But where does it come from? Is one person writing 10 blog posts a day? It's very hard, because a lot of the time, there's only one person creating it." Friedman participated in a session titled, "Make Customers Work for You: How to Increase User-Generated Content."
This gulf between content usage and effectiveness might be one reason why user-generated content is becoming an increasingly powerful tactic among brands—one that not only drives engagement but also offsets cost.
With user-generated content, consumers take some of the creative and financial burden off brands, Friedman said.
When it comes to engagement—the gold standard for content effectiveness—user-generated content is often more effective than traditional branded content. A study from influencer marketing platform Mavrck, for example, which looked at 25 million user-generated Facebook posts published in 2016, found that user-generated content containing a brand mention earned seven times higher engagement than original posts from brands.
Courtesy of eMarketer