Retailers tend to focus on content distribution via their own networks, posting it on their websites and social media pages or sending it via email. In the process, they may be missing a chance to widen their audiences.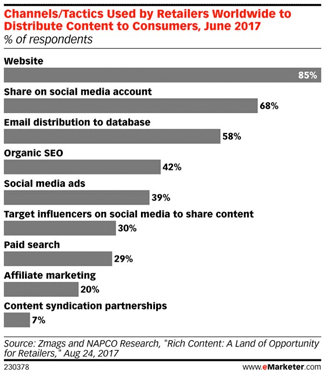 According to a June 2017 study conducted by Zmags, a provider of digital content, and NAPCO Research, the parent of Total Retail, 85% of retailers worldwide distribute content through their website. More than two-thirds said they shared it on their social media pages, while 58% used "email distribution to our database."
These distribution patterns suggest that retailers are primarily focusing on an audience they already know. This approach, the Zmags and NAPCO study said, limits reach—leading to retailers missing the chance to attract additional consumers.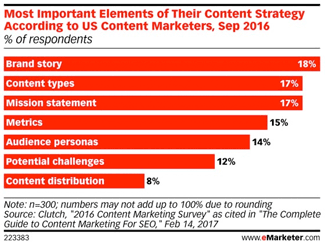 For example, the study indicated that less than 30% of retailers used paid search to distribute content. By comparison, it noted that Forrester Research found more than seven in 10 consumers use a search engine as their starting point to find new products and services.
Every interaction with a consumer is a chance for a brand to surprise and delight—or a missed opportunity to do so. Download eMarketer's Customer Experience 2017 report for a look at marketer priorities around the customer experience, as well as what consumers are looking for from brands.
Receive my copy.
The Zmags research aligns with other surveys in suggesting that for many marketers, the challenge of creating content can overshadow the related challenges of developing an audience for it.
A survey of US content marketers in September 2016 by Clutch found that only 8% of marketers polled said content distribution was the most important element of their content strategy.
Courtesy of eMarketer