One of the "Top Breakthrough Ads" of the third quarter, according to Ace Metrix, is getting prepped for a big Hispanic market treatment and a 2018 rollout.
One of the "Top Breakthrough Ads" of the third quarter, according to Ace Metrix, is getting prepped for a big Hispanic market treatment and a 2018 rollout.
It's a big marketing move for SeaWorld Parks and Entertainment as it seeks to build its share of Hispanic vacationers and local visitors through direct Spanish-language communication — something never done before on a major level.
Test advertising began running in California, ahead of a full-on Hispanic market effort that includes Spanish-language creative. It's an adaptation of SeaWorld's well-received "Park to Planet" campaign.
The spot addresses ways SeaWorld sees to bounce back from an incident seven years ago at its Orlando theme park and resort in which a whale trainer was killed by an Orca. This led to consumer backlash regarding animals kept in captivity, eroding SeaWorld's brand image.
A 90-second spot produced by Push Digital of Charleston, S.C., seeks to move SeaWorld past the tragedy by noting its commitment to saving the world's oceans – and Planet Earth.
Thirty seconds in to the spot, there are no shots of a theme park, nor a brand logo. Instead, corporate responsibility is front-and-center, positioning SeaWorld as a champion of water-foul and the very animals it features at its resorts in San Diego, San Antonio, and Orlando. It is not until the end of the commercial where the pitch is made: From park to planet, see it here – save it there.
A SeaWorld logo is then shown, along with a note that a visit helps provide SeaWorld with $10 million of donations and in-kind services each year for animal rescue and conversation efforts.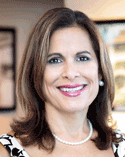 The ad, says CMO Denise Godreau, is part of a larger effort to reposition SeaWorld from a company focused on animal entertainment to a company that empowers families through experiences that matter.
"The spot is a transcreation, with a more poetic take in Spanish," she says.
It's a start, and Davila Multicultural Insights (DMI) of Los Angeles is assisting on the finalization of a strategic comprehensive marketing and media plan – including radio, television and digital platforms. "We are considering everything," says Godreau, who joined SeaWorld in January. She's also been the CMO for Baha Mar, a resort set to open in Nassau, Bahamas. From 2007-2009, Godreau was an SVP for New Growth Business for Walt Disney World.
A national Hispanic market rollout is a possibility, but Godreau wants a stronger regional brand presence for SeaWorld, with Florida, Southern California, Arizona and Texas key markets that also happen to have large Hispanic communities that remain largely untapped.
"When I arrived, SeaWorld had some programs with specific outreach to Hispanics on the local level," Godreau says. This included musical and culinary events targeting Latinos.  "As a Puerto Rican myself living in the United States I know it is important for brands to let Hispanics know we are targeting them – that they are important to us.  With so many Hispanics in the United States, it is our goal to, not only invite them to the park, but to let them know that this is their home away from home."
Now, she says, "We just need to accelerate our efforts targeting both the General and Multicultural markets, and make them consistent across all brands. We want our efforts to be more extensive and complete."
Integrated marketing efforts will include a :15 and a :30, in Spanish.
"I have very high expectations of the U.S. Hispanic market," Godreau says. "It is the highest growth segment. We love theme parks and over-index for visits. And, Hispanics tend to have larger families who spend time together – our goal, is that SeaWorld becomes the number one park destination for them."
Given these traits, strong ROI could result from the campaign's launch in 2018, as SeaWorld promises to obsérvalo aquí – y sálvalo allí.
Adam R Jacobson, for HispanicAd