The consumer packaged goods sector faces tough hurdles in 2018. That's mainly because of long, steady shifts in consumer preferences. But new players are disrupting the market as well, as are changes in the distribution channel.
Challenge No. 1: Many Consumers Have Grown Accustomed to Buying Private Labels
The private-label market once was largely driven by demand from lower-income shoppers. Then came budget-conscious millennials. Now, wealthier consumers are going for private labels as well, tightening the squeeze for national brands.
A September survey by IRI found that more than half of consumers with household income of more than $100,000 said they expect to buy more private-label products over the next six months.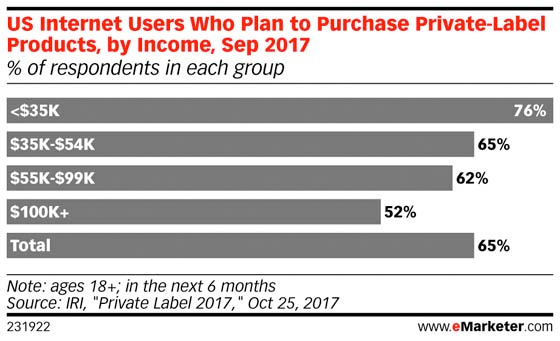 The squeeze isn't just coming from consumers shifting their tastes.  Retailers, too, are adding to the pressure on national brands, using private label goods as a way differentiate themselves from rivals and draw shoppers.
Related: Private Labels No Longer Just About Price
Challenge No. 2: The Consumer Shift Toward Fresh Foods Shows No Sign of Easing
Many packaged foods makers have had to refocus themselves to accommodate consumers' continued shift toward foods that are perceived as fresher and healthier.
Campbell Soup, which recently completed a purchase of Pacific Foods, a maker of organic soups and broths, said IRI data shows that organic food sales at an average of nearly 16% over the past four years. By contrast, canned and other shelf-stable liquid soup products have seen unit sales decline in each of the past four years, according to Nielsen.
Challenge No. 3: Amazon Is Putting On the Pressure
Amazon's disruption of the the retail sector is only the start. The ecommerce giant is now is in the process of disrupting multiple sectors by selling its own lines of furniture, clothing and, yes, packaged goods. The company's best-known private label goods are electronics such as the Kindle reader and the Echo line of smart speakers, but consumer packaged goods make up a huge portion of its private label sales.
According to 1010data, CPG items accounted for 41% of Amazon's private label sales in the first half of 2017.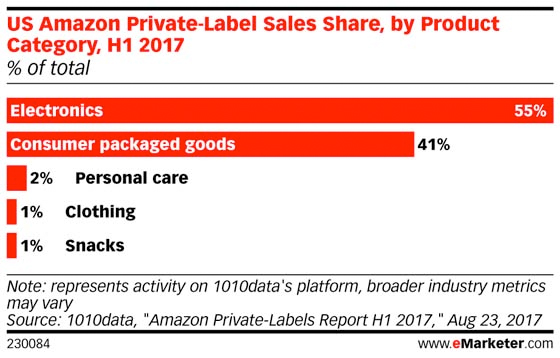 Your customers use Google to locate you. Take control of the information they find and verify your phone number and address. Leverage the Yext Google integration – including Google analytics, attributes, and more – to better attract customers.
Challenge No. 4: Product Cycles Are Speeding Up
Consumer Goods Forum, a global industry network, found that about 180,000 products globally were redesigned in 2016 to meet consumer demands for healthier diets and lifestyles.
It said it's not uncommon for up to a quarter of a company's product portfolio to be "reformulated" within 18 months.
That's more than double the 84,000 reformulations in 2015, and vastly more than the 22,500 in 2014, according to the study.
Challenge No. 5: Digital Channels Have Made It Easier for Upstarts to Gain Share
Online discovery and purchase platforms, along with social channels, have substantially leveled the playing field for new market entrants.
According to Nielsen data for the 52 weeks ended April 15, the 16 largest food and beverage CPG manufacturers, with combined sales of $233 billion, saw their collective share of the US brick-and-mortar market decline to 31%. That was down from 33% five years earlier. In comparison, about 16,000 smaller manufacturers, with annual sales of at least $100,000 each and combined sales of $145 billion, saw their total share of the market rise to 19% from 17%, which is equal to about $2 billion in sales, during the same period.