This year, Toyota is launching the "Juntos Somos Imparables" (Together We are Unstoppable) campaign at NALEO in Dallas which is all about empowering Hispanics to pursue their dreams. Renowned, 5 time National Emmy Awarded Journalist, Neida Sandoval has just been selected to be the Celebrity Ambassador of the campaign at a national level.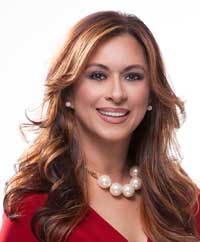 As part of this campaign, Toyota will have a mural at NALEO with an interactive booth, which will feature an art installation of attractively designed license plates bearing personal attributes such as "courage" and "perseverance." Attendees will be asked to choose the value they most identify with and the person in their life who most inspired that quality. They will then replace the license plate on the wall with one bearing the name of the person to form a mural honoring all of those who have inspired them. Participants can also post their inspiration under hashtags #SomosImparables and #VayamosJuntos using social media kiosks at the booth, and enter raffles to win hi-tech prizes.
Neida Sandoval will be traveling around the country to promote this campaign to different cities including San Antonio, Phoenix, San Diego and Dallas. She fell in love with the whole concept. "I love this initiative to honor those who have inspired us in life. I credit my parents with inspiring me to be courageous, win over my fears and dream big. I want to give back by motivating others to hand down these important values through future generations," Sandoval remarked.
Sandoval stellar career has spanned over three decades, covering live the most impactful news such as 911, the Oklahoma City Bombings, the Mexico border crisis to Presidential Elections. During her 23 years at Univision she extensively covered the Southwest as national correspondent for the Network News and later became a household name as the news anchor of its top-rated morning show "Despierta America" for 15 years. For two years Sandoval also headlined Telemundo's popular morning show "Un Nuevo Dia". She has a passion for humanitarian causes such as St. Jude Children's Research Hospital, United Nations World Food Program and SOS Children's Villages among many others.
During NALEO, Neida will be participating virtually via a Facebook Live on Thursday, June 22nd at 4:00 PM ET/3:00 PM CT. Neida will also participate virtually in NALEO via a Twitter chat on Friday, June 23rd at 3:00 PM ET/2:00 PM CT.
The news of Sandoval's partnership with Toyota comes on the heels of the news that  the company has just moved its new headquarters to Plano, Texas, from Los Angeles, where they had been located for the past 50 years. The campus which is environmentally sustainable was inaugurated in May and will house more than 4,000 employees from different divisions including marketing. sales, finance and corporate. The building was built using LEED Platinum standards, the highest certification from the U.S. Green Building Council.  This move is important being that Hispanics make up almost 42% of the Dallas Population.