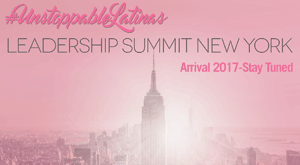 Diversifying and evolving inspired by LATISM's "Best Latina Network Leader" 2016, Lynn Ponder, founder of WebCityGirls influencer brand announced the arrival of #UnstoppableLATINAS Leadership Summit 2017.
Evolving as a thought leader and digital content creator/producer, Lynn is thrilled to announce The Summit inaugural launch will take place in New York City and comes in partnership with 100 Hispanic Women National, non-profit awesome organization. #ULSummit NYC will be the first series of a provocative thought leadership forum with some of the most energizing and brilliant Latinas of the decade.
#UnstoppableLATINAS concept of uniting Latinas and giving power to each other was introduced effectively in Miami and New York during Hispanic Heritage Month and garnered main support from Ford Motor Company and brand integration with JCPenney, Chevron and Neutrogena.
The utmost relevant strategic partners are involved with #UnstoppableLATINAS Leadership Summit, and they promise to mobilize concrete actions to truly empower women and help reach a broader audience. The Summit will be interactive including original and engaging social media LIVE activations.
This past year has been pivotal in Lynn Ponder's digital career. Launching two different platforms—#BeNumberless and #UnstoppableLATINAS—both carry powerful messages to our society, impacting Latina women positively by instilling them with confidence and strong leadership skills.
Please stay tuned for the progression and takeoff of: unstoppablelatinas.com
#UnstoppableLATINAS Leadership Summit New York 2017