Burson-Marsteller announced that Mike Fernandez has been named U.S. CEO, effective immediately. Fernandez succeeds Michael Law who becomes Worldwide Executive Vice President, also effective immediately. Both Fernandez and Law will report to Worldwide President Kevin Bell.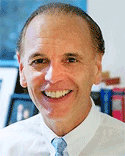 Fernandez joined Burson-Marsteller in September 2016 as Chair, Global Corporate and Financial Practice to spearhead client development, strategy and new offerings for the Practice. "Mike Fernandez is one of the most highly respected leaders in the entire strategic communications field, and we are thrilled to have him step up to run our firm's all-important U.S. region," said Don Baer, Worldwide Chair and CEO, Burson-Marsteller. "Mike's deep experience leading corporate affairs and communications for some of the world's most important companies and his understanding and excitement about the vast changes in public relations make him ideal for this time of transformation at Burson-Marsteller and across our sector."
Added Bell: "Mike's extensive in-house experience, managing agencies and managing client businesses, will provide us with additional insight into how to best solve our clients' communications challenges. I look forward to partnering with him to grow our U.S. business and continue building on our strength in combining world-class strategic counsel with cutting-edge, integrated creative communications to drive measurable results for our clients.
Fernandez has served as the chief communications officer for five large U.S.-based corporations across diverse industries, including financial, technology, consumer goods and services, and health care. Most recently, he led global corporate affairs at Cargill, where for six years he was responsible for communications, brand and marketing services, government relations, and corporate social responsibility. He and his teams have won numerous awards and recognitions, and he is known for leading teams that serve business aims, manage corporate crises successfully and build stakeholder relationships that solve real-world problems and enhance reputations.
Before joining Cargill – the world's largest privately held company and one of the world's leading producers and marketers of food, agricultural, financial and industrial products and services – Fernandez was chief communications officer for four Fortune 500 companies, including State Farm Insurance, ConAgra Foods, Cigna and US West, and before that he held marketing and public relations roles at Kodak. Earlier in his career, he served as Press Secretary to U.S. Senator Ernest "Fritz" Hollings, where at age 23 he was the youngest U.S. Senate Press Secretary ever and only the second Latino to serve in such a role.
"Burson-Marsteller's world-class talent and expertise combined with second-to-none capabilities that are driving business results and solving real-world problems make this an extraordinary opportunity," said Fernandez. "I look forward to working with both our U.S. and global clients to help them win in the marketplace and thrive."