US consumers are spending more time with their digital devices than ever before, and that holds true while they're already watching something else. eMarketer estimates 177.7 million adults will regularly use a second-screen device while watching TV this year, an increase of 5.1% vs. 2016.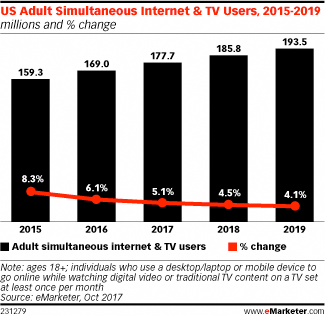 As individuals spend more of each day digitally connected, simultaneous media use will rise. As always, consumers want to fit as much into their day as possible, and multitasking during TV is often how that's accomplished. By 2019, 193.5 million US adults will access the internet during TV viewing at least once a month.
Some 162.6 million people will use smartphones as a second-screen device while watching TV in 2017. This is much higher than the 110.5 million simultaneous users expected for desktops/laptops. The number of people using a desktop/laptop and TV set at the same time will be roughly flat during the forecast, due to declines in overall PC use.
Every month, 46.2 million adults will access at least some digital content that is related to what they are watching on TV. A much larger group, 131.5 million, will look only at unrelated content. These individuals are often texting, using social media or shopping and buying as they watch TV.
In an episode of eMarketer's podcast, "Behind the Numbers," senior forecasting analyst Oscar Orozco talks about the various types of content that simultaneous media users consume.