"Hoy voy a cambiar" (Today I'm going to change), a primetime bio-series that chronicles the life of the singer and actress Lupita D'Alessio, will air on Univision Monday through Friday at 10 p.m. ET/PT (9 p.m. CT) starting September 11th.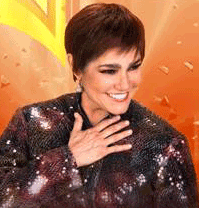 This biographical mini-series simultaneously narrates two stages in Lupita D'Alessio's life; from the beginning of her career as a talented young singer, as portrayed by Mariana Torres, to her meteoric rise to fame, her struggles with drug addiction and ultimate comeback, played by Gabriela Roel.
The series includes testimonials from Lupita D'Alessio herself in which she opens up her heart to tell viewers the real story of Guadalupe Contreras Ramos, a girl from Tijuana who grew up under her father's pressure to become a successful singer.  Viewers will witness her struggles as a mother, her five unsuccessful marriages and the direct impact of her destructive relationships on her songs.
"Hoy voy a cambiar" is an inspirational story of a survivor who overcomes self-destruction and is able to defy traditional female roles in a predominantly male chauvinistic society, becoming the voice of an entire generation. Fans will be able to enjoy Lupita's uplifting story as she continues to captivate audiences all over the world with her unique interpretations and powerful lyrics about love's pitfalls that earned her the nickname of "La Leona Dormida" (The Sleeping Lioness).