Azteca America announced the premiere of Así en el Barrio como en el Cielo, a telenovela with comedic elements starring Patricia Bernal, José Alonso, Fernando Luján, Juan Manuel Bernal, Verónica Merchant, Marcela Guirado, and Luciano Zacharski.  Fate and past love affairs force two very different families, the López López family and the Ferraras, to live under the same roof.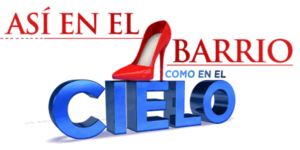 Así en el Barrio como en el Cielo, is a story of the ups and downs of love and money and about the unpredictability of life generally.  The telenovela shows that people, regardless of their social class, are much more alike than they may seem at first glance.
The story begins in 1971 at the now-historic two-day Mexican rock concert Festival de Avándaro.  At the rock festival, Francesca Ferrarra (Patricia Bernal), whose family is very wealthy, meets Expedito López López (José Alonso), who comes from a much more modest family.  A strange woman makes a prediction, stating that "until you can see each other as equals, your love for each other shall never come to be."
The prediction goes on to affect one generation after the next, influencing the love lives of each of their children and grandchildren.  Through inexplicable circumstances, fate finds them being drawn to each other.
The Ferraras, a family with a distinguished lineage, and the quirky López López family end up living together, unleashing a series of mishaps, adventures, and circumstances neither family is prepared to handle.
Así en el Barrio como en el Cielo is produced by Fides Velasco, one of the best-known creative minds at Azteca whose telenovelas include Vivir a Destiempo, Emperatriz, Vidas Robadas, Secretos del Alma and Mirada de Mujer... el Regreso, among many other big hits.
This much-anticipated launch on Azteca America features performances from legendary Mexican film and television actors such as Patricia Bernal, José Alonso, Fernando Luján, Juan Manuel Bernal, and Verónica Merchant, who share the screen with young talent trained at CEFAT, the Centro de Formación de Actores para la Televisión de Azteca (the Azteca Center for the Development of Television Actors).  Among these fresh faces are Marcela Guirado and Luciano Zacharski who previously appeared in Vivir a Destiempo, the hit telenovela.  The rest of the cast includes distinguished Mexican actors who have become household names in Azteca programs including Mariana Torres, Armando Torrea, and Bárbara de Regil, among others.
Así en el Barrio como en el Cielo debuts Tuesday, February 24 at 8:00 pm / 7:00 C, after the series finale of the telenovela Las Bravo.