The Telemundo Station Group announced that Sabrina Lopez has been named Vice President of Sales for Telemundo 20 San Diego.  Lopez will be responsible for developing and implementing all local, national and sales strategies across all Telemundo 20 station platforms. She will report to Richard Kelley, President and General Manager of Telemundo 20 and NBC 7 San Diego / KNSD. Her first day in San Diego will be June 1.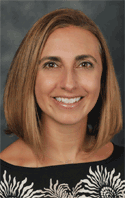 "Sabrina is a strategic sales professional who is deeply familiar with our Telemundo brand and is the right sales leader that Telemundo 20 needs," said Kelley. "I am excited for Sabrina to join our San Diego team to help us maximize opportunities with advertisers and connect them with our Spanish-speaking audiences."
Lopez brings more than 16 years of experience to her new role after holding sales positions with increasing responsibility for NBCUniversal Owned Television Stations, a division of NBCUniversal that includes 29 NBC and Telemundo-owned stations, NBC Regional Sports Networks, and Telemundo stations in Denver, Chicago and New York. She joins Telemundo 20's team after working for Telemundo 47 as WNJU's sales manager and business development director for the past three years. While at WNJU, Lopez's efforts greatly contributed to Telemundo 47's increased revenue growth and success in the market.
"I'm excited to join the team in San Diego to help launch Telemundo 20 and help connect advertisers with our influential Hispanic and Spanish-speaking audiences in the market," added Lopez.
Prior to WNJU, Lopez also helped to maximize and increase sales revenue for NBC and Telemundo-owned stations all across the U.S. and Puerto Rico, and for NBC Regional Sports Networks. She launched her career in broadcast sales as an account manager for Telemundo Denver in 2001. Lopez earned her bachelor's degree in Biology and Chemistry from St. Joseph's College in Indiana. She will relocate to San Diego.