Univision Network announce the premiere of the epic series "El Rico y Lázaro" a compelling story of romance and intrigue set in Babylonian palaces on January 15 at 8 p.m. ET/PT (7:00 p.m. CT) and thereafter Monday through Friday in the same timeslot.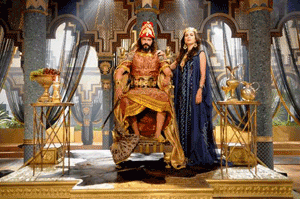 Inspired by the biblical parable of "Lazarus and the Rich Man," "El Rico y Lázaro" unfolds in two mayor storylines. The first unfolds when the Egyptians held tribes from the ancient Kingdom of Judah captive in Babylonia. After defeating the Egyptians, The King of Babylon, Nabucodonosor II (Heitor Martinez), takes the throne of the vast empire. During his reign, he transformed the city into a jewel of the ancient world, building the legendary Hanging Gardens of Babylon for his wife, Queen Amytis (Adriana Garambone).
The second story follows the lives of three childhood friends: Asher (Dudu Azevedo), Zac (Igor Rickli), and Joana, played by Brazilian actress Milena Toscano. Born Hebrews, Zac and Asher's great friendship is shaken by the love they both feel for their childhood friend, the beautiful Joana. King Nabucodonosor II invades Jerusalem, destroys Solomon's Temple and enslaves thousands of Hebrews, initiating the Babylonian Captivity, lasting seventy years. Zac and Asher are among the captives and see their world being destroyed. Plagued by separations, setbacks and disagreements, their lives will be marked by jealousy, guilt, revenge, sacrifices and, above all, an intense competition for Joana's love.