The Univision Network announced the premiere of the epic series "La Tierra Prometida" (The Promised Land), a compelling story of courageous faith filled with adventure, temptation, intrigue, and forbidden love. Filmed in Egypt, Israel and Chile, the Brazilian-produced "La Tierra Prometida" premiere follows the 8 p.m. two-hour finale of "Jose de Egipto" (Joseph of Egypt) on August 7, at 10 p.m. and will continue Monday through Friday in the same time period.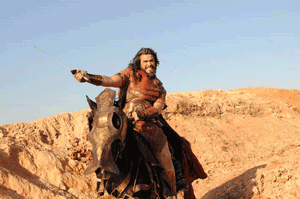 Inspired by the sixth book of the Hebrew Bible (The Christian Old Testament), the series takes place around 1200 B.C. after the death of Moses. It tells the epic quest of a spirited warrior named Joshua, played by Brazilian actor Sidney Sampaio, who is chosen by God to be Moses' successor to lead a whole new nation through innumerous battles against other kingdoms in search of the promised land.
Joshua also lives a powerful love story with the beautiful Araunah (Thais Melchior), a courageous and determined young warrior, skillful with the sword and capable of fighting alongside the bravest soldiers. A complicated battle arises when Araunah's vindictive sister, Samara (Paloma Bernardi), falls madly in love with Joshua and does everything in her power to tear the young couple apart. After eliminating his most powerful enemies, Joshua not only fights to lead his people to the promised land, but to conquer the love of his life, too.