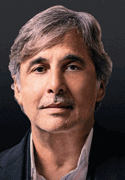 Billboard announced that Raúl Alarcόn Jr., Chairman and Chief Executive Officer of Spanish Broadcasting System, Inc., tops Billboard's annual "Power 100".
Opening its citation for Raúl Alarcόn Jr., Billboard says: "CLEAR SIGNAL OF POWER: Under the SBS chief's leadership, WSKQ-FM (Mega 97.9FM) New York remained the top Spanish-language station in the United States. He also expanded LaMusica, a free multimedia streaming service. Mr. Alarcón helms the company founded by his father, who fled the Cuban Revolution in 1960. The son has focused on expanding SBS' digital footprint and live business. In 2017, SBS' signature urban live show, Calibash, once again sold out the 21,000-seat Staples Center in Los Angeles."
As Chairman and CEO of SBS, Mr. Alarcón has grown SBS from an influential radio network with stations in New York, Los Angeles, Miami, Chicago, San Francisco and Puerto Rico;, to a multi-media empire built upon music. The company includes the 250+ affiliate AIRE Radio Networks; MegaTV, a network television owner/operator with over-the-air, cable and satellite distribution; SBS Entertainment, the largest independent producer/promoter of Hispanic concerts and events; and LaMusica, a music and video streaming app catering to Hispanic millennials. For over three decades, Mr. Alarcón has demonstrated an unwavering commitment to fostering and promoting Latino talent and artistry.