Estrella Media's 'PREMIOS DE LA RADIO' returns to Mexico City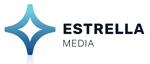 Estrella Media will bring its Premios de la Radio awards ceremony back to Mexico City on Thursday, November 3. The original Regional Mexican music awards show will air and stream on EstrellaTV channels in the U.S. and will be simulcast in Mexico on broadcast partner TV Azteca's Azteca Uno.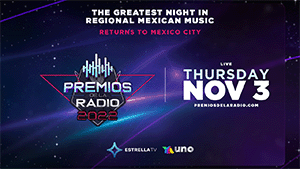 Considered the biggest night in Regional Mexican music, the 2021 awards ceremony had a global reach of over 11 million fans across its streaming, social, and broadcast platforms. For the first time, the renowned awards and red carpet show was broadcast across Estrella Media's digital and FAST channels and in Mexico on TV Azteca Uno. The broadcast reached over a million fans in the U.S. and over 1.5 million in Mexico through broadcast TV and streaming, and over nine million via social media.
"Premios de la Radio is the most important awards show for Regional Mexican music and culture," said Ivan Stoilkovich, EVP, TV Content, Estrella Media. "It is the show that celebrates the year in music, simultaneously showcasing new artists and groups and legends who continue to drive fandom and shape the industry. We were excited for the return of an in-person audience last year, and we look to elevate that experience again this year. In addition, we are thrilled to partner again with TV Azteca and air this show as a simulcast on EstrellaTV and Azteca Uno. If you are a fan of Regional Mexican music, this is your night."