Audi, Anheuser-Busch, Airbnb and other Super Bowl advertisers risked controversy this weekend with ads that were seen as having a progressive edge. But how risky is it, really, for advertisers to take a progressive stance in a mass-market setting?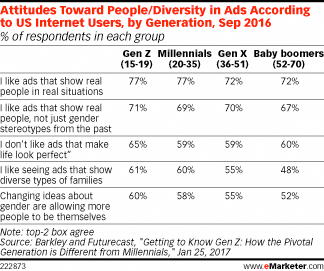 At least in regards to one hot-button topic, diversity, a recent survey suggests audiences—especially younger ones—may actually favor ads that highlight diversity.
A September 2016 survey of US internet users from Barkley and Futurecast found that a significant majority of respondents of all ages said they favor ads that "show real people, not just gender stereotypes from the past."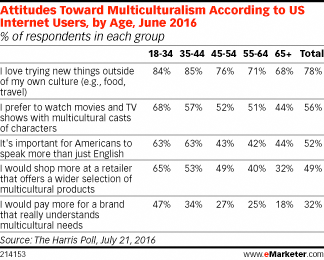 When respondents were asked whether or not they agreed that "changing ideas about gender are allowing more people to be themselves," 60% of Gen Zers (ages 15 to 19) and 58% of millennials (ages 20 to 35) said yes, compared with 52% of baby boomers. These younger users were considerably more likely than baby boomers to agree that they "like seeing ads that show diverse types of families."
Barkley and Futurecast's poll aligns with findings from a survey from The Harris Poll conducted earlier in 2016, which showed that younger US internet users tend to be more open to issues surrounding multiculturalism. Nearly seven in 10 millennial respondents (ages 18 to 34) said they prefer watching movies and TV shows with multicultural casts, compared with 56% of total respondents, while 65% said they would shop more at a retailer that offers a wider selection of multicultural products, vs. 49% of total respondents. And nearly half of millennials said they would pay more for a brand that really understands their multicultural needs.
The survey results reflect the makeup of the younger groups: Millennials, and to an even greater extent, members of Gen Z, are more racially and culturally diverse than any generation before them, and according to a study conducted last year from J. Walter Thompson (JWT), tend to be much more accepting of nontraditional gender roles.
"We're seeing a more multicultural, diverse and open society, especially among millennials," said Quim Gil, head brand planner at Richards/Lerma, a Hispanics-focused agency, in an interview with eMarketer. "We know that these new, modern consumers share an endless curiosity and openness to new cultures, no matter what their skin color. They want to learn new languages, travel and hear different opinions—they don't want to be siloed."
Courtesy of eMarketer