New research from consulting firm Magid finds that many people are frequently watching live streaming video.
In fact, nearly half (48%) of US internet users surveyed in June 2017 said they do so at least once a week. And roughly a quarter (23%) said they watch live streaming content at least once a day.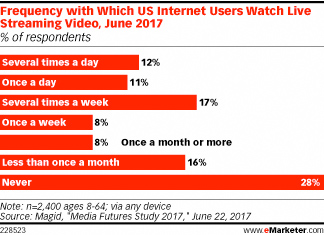 But while many people are frequently viewing live content, there's still room for growth. According to Magid, 28% of respondents have never watched live streaming video.
That may change, however. For one, live streaming TV services are already being offered by many established companies including YouTube, Sling TV, DirecTV and most recently Hulu.
Even Amazon is dabbling with live streaming. It recently paid the National Football League roughly $50 million for the rights to stream 10 Thursday night games this season.
What's more, people feel updated and informed when they watch this type of content, at least according to the Magid study. When asked why they watch live streaming video, a quarter of respondents mentioned that very reason.
And one in five said watching live streaming video makes them feel like a part of an event.
Courtesy of eMarketer