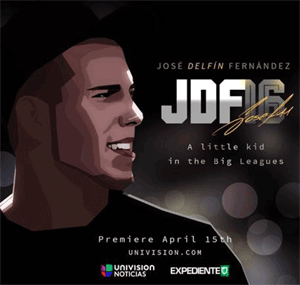 As part of its continuing digital expansion, Univision News announces the launch of Grandes Historias (Great Stories), a new digital video platform dedicated to sharing relevant, powerful stories for and about Hispanics through original documentaries and innovative video formats. The site will leverage the investigative journalism and production resources of the Univision Communications Inc., (UCI) award-winning news division to take a wide variety of compelling human interest video stories directly to digital audiences wherever they are: online, on mobile, and on social media.
Grandes Historias launches on Saturday, April 15, 2017 with "JDF 16," an original one-hour documentary that chronicles the remarkable and tragically short life of José Delfín Fernández, the Florida Marlins pitching ace who died in a boating accident on September 25, 2016 at the age of 24. The documentary was written and produced by Univision News Digital's senior editor David C. Adams and digital journalist Laura Prieto Uribe.
Univision News' digital team traveled to Santa Clara, Fernandez's hometown in Cuba, to interview influential figures from his childhood, including his little league coaches, his neighbors, and close relatives. In Florida, Univision spoke with some of the key people in the baseball star's life, among them his mother, his ex-wife, and his girlfriend, who gave birth to their daughter six months after Fernandez's death. These on-camera testimonies, combined with other research conducted by Univision News, paint a touching, intimate portrait of a gifted and charismatic athlete with big dreams. A young man who escaped Cuba by boat with his mother at the age of 15, risking his life to make those dreams come true in the United States – only to tragically lose it less than a decade later in a controversial accident that has tarnished his reputation after an investigation revealed the presence of cocaine and alcohol in his system. His family and friends are still searching for answers, and hope that he will be remembered for the way he played more than for the circumstances behind his death. Had his career not been cut short, baseball experts say that Fernández was likely destined for the Hall of Fame as arguably the best Cuban player to make it to the Major Leagues.
In addition to being available for viewing anytime on Grandes Historias beginning on Saturday, April 15, the documentary will air on Univision Deportes Network (cable only) as a special edition of the sports newsmagazine "Expediente" on April 15 at 12:00 a.m. ET/9:00 p.m. PT.