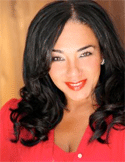 The inspirational docu-comedy chronicles the life of Melendez, the creator of The Hot Tamales Live!, one of the longest running all female comedy show.
The film received great audience feedback and opened to a sold out show at Universal City AMC on Friday May 2nd. It will also open in Puerto Rico's Fine Arts Theaters by the end of May.
"Puerto Rico is looking forward to this bold and hilarious film," said Danny Nieves of Premiere Films.
Audiences of all ages, genders and ethnicities reacted positively to the film, commenting on its humor, inspirational message, and the insider's view of Latinos in entertainment. The film includes candid interviews with stars such as Edward James Olmos, Esal Morales and Jacob Vargas, Nadine Velasquez, Maria Conchita Alonzo and many others.
The story centers around Melendez' quest to develop a Spanish language stand-up comedy. It was co-directed by Erick Crespo ("Confessions of a Womanizer").
"Some of America's greatest entertainers come from stand-up comedy such as David Letterman, Jerry Seinfeld, and Ellen DeGeneres. I realized Latinos do not have a platform in which to showcase their talents," said Melendez. "Anyone who has a dream can identify with our movie."
"Journey of A Female Comic" fits perfectly within our AMC Independent programming initiative, which opens our screens to movies that resonate with our diverse audiences," said Nikkole Denson-Randolph, Vice President of Alternative Content at AMC. "Kiki Melendez' story is honest and entertaining, and will connect with many of our guests."