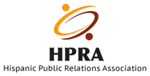 2018 Hispanic Public Relations Association/Los Angeles Chapter Board of Directors has been annouced. Serving as HPRA/LA President this year is Stephen Chavez, owner of PR consultancy ChavezPR. Chavez served as National HPRA President in 2013-2014 and had been on the national board of directors since that time.
"Our aim is to bring real value for local HPRA members. With a strong national organization behind us, I am excited to return as the LA president and work with this amazing team to bring a year filled with educational and professional opportunities," said Chavez. "We've recruited an all-star board with senior level executives who will help revive the organization with fresh ideas and resources. If you're not a member of HPRA/LA, now is the perfect time to join."
The 2018 HPRA/Los Angeles Board of Directors include:
EXECUTIVE OFFICERS:
President - Stephen Chavez of ChavezPR
Vice President/President Elect - Miguel Lopez of Panda Express
Treasurer - Lourdes Rodriguez of Saban Community Health Clinics
Secretary - Cynthia Cruz of Mitú
DIRECTORS AT-LARGE:
Aimee Duenas, H&K Strategies Group
Claudia Santa Cruz, Santa Cruz Communications
Daniel Morales, Tapiz Media Group
Delia Lopez, Conill Advertising
Jose Rodriguez, Pantelion Films
Katherine Johnson Gunn, Hispanicize
Maricela Cueva, VPE Tradigital Communications
Melissa Gonzalo, San Antonio Winery
Norma León de Moncada, NLM Consulting
Roxana Lissa, Rox United
Valarie De La Garza, Fenton Communications
Student Representative at-large: Sasha Chavez, University of La Verne
IMMEDIATE PAST PRESIDENT
Reyna Hernandez, Creative Branding Co.