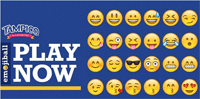 Tampico Beverages launched "Emojiball," a social media game where anyone age 17 or older can comment on specific Tampico Facebook, Twitter and Instagram posts with a combination of five emojis from a selected pool of 24 in an attempt to guess the winning emoji combination. Prizes, including a state-of-the-art smart watch and other tech toys, will be awarded to contestants who use the five correct emojis in the correct order, as well as runners-up selected from contestants with partially correct combinations.
 
Through Emojiball, Tampico, known as the "blend master of refreshing exotic fruit flavors," aims to celebrate the fun-loving nature of its brand by combining the cross-cultural mobile language of emojis with the excitement of a mastermind-esque guessing-game. The company also wants to provide its loyal social media fan base and global community of consumers with an opportunity to join in the fun by playing along.
 
"When people think of Tampico, they associate our drinks with fun, blended fruit flavors and colorful living. Through the launch of this social media game, we want to celebrate the joyful expression of life that is synonymous with our brand—and do that through the global language of emojis," said Marta R. Gerdes, vice president of marketing for Tampico.
The game will run from June 29 to September 18. During that time frame, entries can be posted across each of Tampico's social media accounts on the platforms Facebook, Twitter and Instagram during nine-day periods of entry, with winners selected and announced three days after every entry period.