Burson-Marsteller announced Jonathan Stern has joined the company as Managing Director and Market Leader of the firm's Miami office, which serves the Florida market and is a key component of the firm's Latin America business.  Stern will lead a team serving diverse clients supporting their brand marketing, consumer, corporate, crisis response, digital, government affairs, health care, investor relations, media relations, public affairs, reputation management, sports marketing and technology needs. He also will be responsible for the strategic growth of the Miami operation and provide senior counsel to key clients.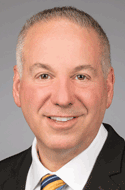 "We are delighted to have Jonathan return to Burson-Marsteller," said Francisco Carvalho, CEO of Burson-Marsteller Latin America, to whom Stern will report.  "His extensive expertise as a trusted advisor on both the client and agency side will be a tremendous asset for us as we build our business across the Latin America and the Florida market – which is not only the gateway to many Fortune 100 companies wanting to expand in Latin America but also Latin American companies interested in growing in the United States."
Stern brings 30 years of experience as a communications expert at Fortune 500 corporations, leading public relations firms and major sports leagues to his role at Burson-Marsteller.  Before joining the firm, he was President and CEO of Platinum Marketing Communications, an integrated marketing consultancy he founded serving consumer, corporate and sports brands. Before that, he spent 11 years with MillerCoors in Chicago, most recently as Director of Media Relations and Investor Relations, serving as a strategic business partner to the CEO and senior leadership team charged with advancing key commercial, corporate, industry, government affairs and employee story narratives to drive business results.  Before that, he spent four years with Cramer Krasselt as a senior vice president running the Milwaukee public relations operation of the agency.  He was the sole lead originator for the group's new business efforts and senior counselor for the agency's top integrated marketing accounts.  Earlier in his career, he served in a marketing communications role with the National Basketball Association, led marketing and communications for NYC2012, New York City's Olympic bid, and worked in the New York offices of Weber Shandwick and Dan Klores Communications.  Stern previously worked in Burson-Marsteller's New York office but also led Miami and Chicago-based accounts.
"I am very excited to join the incredibly talented team at Burson-Marsteller in Miami and provide strategic counsel and creative solutions for our clients that will influence and impact their business results," said Stern.  I look forward to helping clients build their businesses across Latin America and Florida and to returning to the firm where I began my career."