From job growth picking up and income lagging behind to weak housing investments and the current political climate, consumers are being bombarded with a slew of mixed indicators that are making them less willing to open their wallets and spend.
"Since consumer spending accounts for about 70 percent of the U.S. economy, consumer hesitation to spend is a really big deal, and it is leaving CPG marketers struggling to find true and sustainable growth in a low-growth marketplace," said Susan Viamari, vice president of Thought Leadership for IRI. "This also is playing out in the non-food sector, where consumers are taking a very cautious approach to their purchases. They are buying what they need rather than stocking up and purchasing those nice-to-have items in the beauty/personal care, health care, general merchandise aisles."
Let's make a deal
Results from the Q2 2017 IRI Consumer Connect survey reveal that 49 percent of consumers are making sacrifices to make ends meet compared to 51 percent in Q2 2016. Generation X and millennials have been hit the hardest, at 54 percent and 53 percent, respectively, but other generations don't lag far behind. To stretch their dollars, deal-seeking remains high and is essentially unchanged compared to 2016:
                                            


Non-food sector struggling
Non-edible sales struggled more than the CPG industry as a whole during Q2 2017, with unit sales down in all three months of the quarter: 0.4 percent in April; 1.5 percent in May; and 1.9 percent in June. May/June declines cut across all non-edible departments but were sharpest in beauty and general merchandise: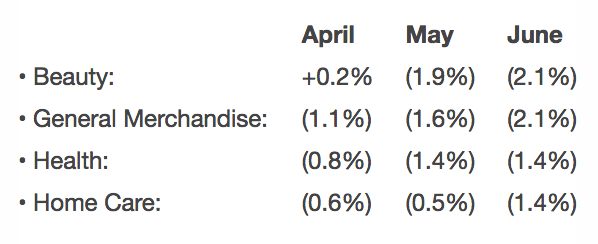 In addition, consumers are selecting which retailer to shop based on money-saving opportunities offered. Millennials, who have struggled more than others since the economy took a downturn, are the most discerning about which store they will shop (total, millennials, Generation X, baby boomers, seniors).
 
• Able to fulfill my needs at the lowest possible cost: 95%, 96%, 95%, 96%, 94%
• Good selection of store brand products: 82%, 86%, 84%, 80%, 79%
• Strong loyalty/discount program: 74%, 79%, 79%, 74%, 66%
• Good selection of health care products: 62%, 62%, 58%, 64%, 60%
• Good selection of beauty/personal care products: 51%, 54%, 49%, 53%, 44%
 
Overall, the grocery channel is outpacing the industry average and the mass market/super channel when it comes to both number of shopping trips and per-trip spending for non-food items.
The appeal of store brands
Store brands continue to be viewed as a quality product for a good price. These products appeal to all generations, especially millennials, who tend to be more concerned with meeting their needs than the actual brand name, and are inclined to view store brands most favorably (total, millennials, Generation X, baby boomers, seniors).
 
• Store brands are just as good in quality as national brands: 75%, 83%, 78%, 72%, 68%
• Store brands are a better value than national brands: 69%, 76%, 69%, 67%, 64%
As a result, spending on non-food store brand solutions is outpacing national brands. While store brand trips are lower, trip performance has been stable.
"Everyone is battling for growth in the CPG industry, so marketers need to constantly communicate with their consumers, tailor their offerings and target their messaging to succeed," concluded Viamari. "Targeting against high-potential consumers is critical. For instance, millennials will pay more for online ordering with home delivery, and wealthier shoppers will pay more for nutrition density and eco-friendliness. Getting the right message to the right consumer will help pry those wallets open."