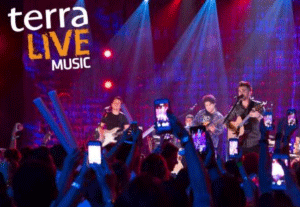 Terra presented Latin music Superstar Juanes for the first on-stage performance of his new album "Loco de Amor" (Crazy from Love) in a world-wide digitally-streamed concert that took place earlier this month in Miami.
 
This "Terra Live Music in Concert" event, sponsored by Dunkin' Donuts, KRAFT Macaroni & Cheese, Pepsi and Sprint was transmitted in HD via computers, smartphones and tablets - allowing fans to watch Juanes' concert free online and publish comments on social media using the hashtags #TerraLiveMusic, #Juanes, #JuanesTerra, #LocoDeAmor and #LaLuz.
 
Juanes lit up the Miami stage with his recent #1 hit "La Luz," utilizing the energetic cumbia rhythms to pay homage to the Colombian city of Cartagena, as well as just released follow-up single "Mil Pedazos" and more of the emotionally charged songs from "Loco de Amor."  The live audience in Miami and global viewers connected and also enjoyed many of Juanes' greatest hits such as "La Camisa Negra," "A Dios Le Pido," "Nada Valgo Sin Tu Amor" and the show closing classic "Mala Gente."
To view live concert CLICK HERE.