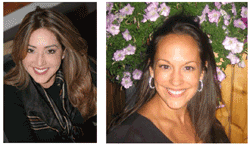 Spanish Broadcasting System, Inc. announced the leadership appointments of Elisa Torres as EVP, Aire Radio Networks and National Radio Sales and Michelle Marino, SVP, Aire Radio Networks and National Radio Sales, effective immediately.

"As we continue to enhance our cross-platform multimedia offerings, it is critical that we also reshape our national and network business units for long-term success," said Albert Rodriguez, COO, SBS, "Elisa Torres and Michelle Marino make an exceptional team. They have played a significant role in establishing a results-driven, innovative and synergistic operations and sales team with AIRE, our radio networks division. We are confident that under their leadership, they will streamline our network and national business operations in order to deliver competitive offerings in the Hispanic marketplace."
Elisa Torres, EVP, Aire Radio Networks and National Radio Sales, spearheaded the launch and development of Spanish Broadcasting System, Inc.'s radio network, AIRE Radio Network. In her expanded role, she will oversee the integration and development of the network and national radio business and sales operations. In addition, she will manage SBS's national rep firm, Gen Media. Torres, one of the first women leaders in the company and the media industry, has been with SBS for over five years. She has led all aspects of the network radio operational strategy as well as all affiliate and syndication efforts. Prior to joining SBS, Torres was an executive for Cumulus Media/Formally ABC Radio Networks from 2004 to 2013.
In her new role as SVP, Aire Radio Networks and National Radio Sales, Michelle Marino, a sales veteran with over 20 years of experience, will be responsible for implementing all network and national sales strategies, including developing client relationships and creating competitive integrated marketing platforms to drive new revenue for SBS. Prior to joining AIRE Radio Networks/SBS, Marino was VP, sales for Univision Network Radio.