Television is the most effective political ad format influencing voting behavior across all generations, according to a January 2016 survey. Print ads also influence behavior.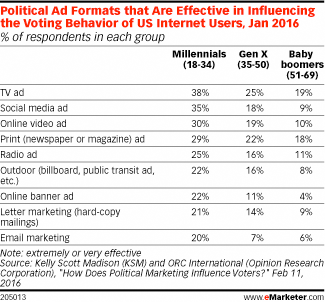 Research from Kelly Scott Madison (KSM) and ORC International revealed that 38% of millennials said that TV ads were very or extremely effective in influencing their voting behavior. A quarter of Gen Xers and 19% of baby boomers agreed.
A separate September 2015 survey from YuMe was also in line with KSM and ORC International's findings. YuMe research found that while it seems TV is the best channel to get political messaging to US internet users, there's one exception to that rule—actual TV ads, a traditional and long-standing platform for political advertising. Some 42% of US internet users said that channel was most effective.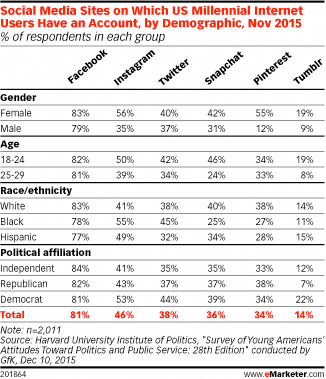 But TV ads were not the only effective political ad formats. According to KSM and ORC international, print ads—like those in newspapers or magazines—were also effective in influencing voting behavior among all generations. For example, 29% of millennials, 22% of Gen Xers and 18% of boomers said so.
However, social media ads and online video ads were more effective than print ads, per millennials.
And overall, this age group found all other political formats, such as outdoor marketing, radio advertising, online banner ads, letter marketing and email marketing to be extremely or very effective in influencing voting behavior—more so than their older counterparts.
When it comes to reaching millennials, Facebook is the place to be. A November 2015 survey by the Harvard University Institute of Politics found that eight in 10 internet users ages 18 to 29 had a Facebook account, and it was the only site studied where Republicans and independents were both more-represented than Democrats.
Courtesy of eMarketer