20th Annual Hispanic Television Summit Returns In-person With Theme of "Embracing Our Culture"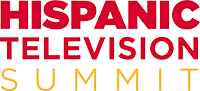 After two years as a virtual conference, the producers of the 20th Annual Hispanic Television Summit have announced the return of a live in-person presentation of the popular, annual summit for those in the business of television for Hispanic audiences, worldwide. The Hispanic Television Summit will be presented for the twentieth year by Broadcasting and Cable and Multichannel News magazines as one in a series of events during NYC TV Week, on Wednesday, September 14, 2022 at ETC Venues, 360 Madison Avenue in New York City.
Joe Schramm, the Summit producer and president of Schramm Marketing Group, said "The 2022 conference focuses on the theme of Embracing Our Culture and stresses the visibility and culturally appropriate depiction of Hispanic characters, storylines, and fair representation on television." He added, "I think this topic is more important now than ever before. Our attendees will benefit from this crucial series of conversations while also enjoying the networking and socialization of this exciting, in-person event."
The program opens with an address by Gonzalo Del Fa, President of Group M Multicultural on the current state of Hispanic media, followed by an opening keynote conversation featuring Gio Benitez, transportation correspondent for ABC News and frequent contributor to "GMA" and "ABC Nightly News with David Muir." Morning sessions include a panel discussion about television media placement that includes leading media buyers and sellers from Canela Media, Canvass WW, Horizon Media, PHD Media and Roku, as well as a presentation by noted multicultural researcher Carlos Santiago of current data on "cultural visibility" in today's TV programming. He explores this subject further in a fireside chat with ad agency legend, Daisy Exposito, CEO of d'exposito partners. The morning also reflects a study by Nuestra TV on the changing habits of Hispanic streamers and concludes with a conversation about FIFA World Cup from Qatar with key Telemundo executives and Ana Jurka, the network's first female co-anchor for a World Cup telecast.
Ana Jurka will then host the annual presentation of the Hispanic Television Awards which honor five recipients including Sunny Hostin, the Emmy winning co-host of ABC's The View, who will receive the summit's legacy Award for Outstanding Achievement in Hispanic Television for being a culturally appropriate voice for Hispanics on television. The 2022 Hispanic Television Award for Executive Leadership in Marketing will be presented to Jose Velez Silva, Vice President, Multicultural IMC Brand Marketing at Comcast, while the Hispanic Television Award for Executive Leadership in Content Programming will be presented to Juanjo Duran, Head of Entertainment & Multicultural at Google. Two more awards are given to companies or individuals who are pioneers in the industry and continue to make a significant contribution to the business. These awards are given in the name of the late Rafael Eli, a co-producer of the Summit who passed from Covid in 2022. The Rafael Eli Award for Pioneer in Hispanic Television in the Agency Category will be presented to ORCI and accepted by Marina Filappelli, CEO of Orci. The other Pioneer Award is in the Media Category and is presented to a leading publication, PRODU, which covers the television industry in Latin America and US Hispanic. The award will be accepted by Maribel Ramos-Weiner, Senior Editorial Director and Amy Ibarra, Senior Director for the Television Division on behalf of Richard Izarra, the owner and president of the international media publication. The awards are followed by a celebratory luncheon of traditional Latin fare.
Afternoon sessions will highlight Hispanic cultural visibility on television with a series of conversations about programming and its promotion, including a session, moderated by Sunny Hostin, that discusses the evolution of the iconic telecast of the annual Puerto Rican Day Parade, now aired on the English language broadcast station, WABC-TV. A fireside chat focuses on how Comcast effectively tackles subscriber retention in its marketing efforts and another discussion on audience promotion features executive participants representing HBOMax, Pluto TV, Vevo and Tarima TV.
The two final sessions of the afternoon focus on delivering content to the Hispanic consumer. One session will balance between traditional cable TV distribution and streaming partnerships, with representatives from cable provider Comcast, streaming platform Vidgo and programmers Condista, and Castalia. The final session looks at the dynamics of content partnerships on streaming platforms with executives from Google, Pantelion Films/Pantaya, Somos Next and Univision.
The 20th Annual Hispanic Television Summit will be attended by leaders in the business of television for Hispanic audiences from advertising, brands, production, programming acquisition, broadcast, cable and streaming, marketing, promotion, research and financial investment. For more information about the program or to review the agenda, CLICK HERE.