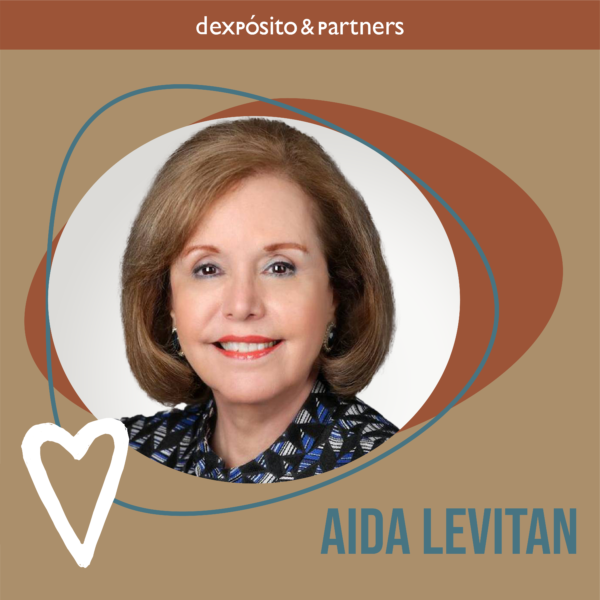 Today, we're excited to share the story of another incredible and highly accomplished Latina: Aida Levitán. In 2017, she became the first and only Cuban-American female board chair for a U.S. commercial community bank. Now that's impressive, but there's more. Just 4 years later, she took U.S. Century Bank public! As a result of her service and this accomplishment, in 2022 Forbes selected Aida as one of their "50 over 50," a list of top female business leaders, entrepreneurs and financiers, curated in collaboration with Mika Brzezinski from MSNBC's Morning Joe.
Aida Levitán has always been a pioneering woman, especially in the advertising industry. From the mid-80's to the mid-2000's, Levitán had a stellar career in Hispanic advertising and public relations. She worked alongside some of the world's biggest brands, including Nestlé, Coca-Cola USA, Absolut Vodka, Coors, TJX Companies and many others. In 1986, she co-founded Sánchez & Levitán, serving as a Principal until selling the agency to Publicis Groupe, in 2001. Aida then went on to serve as the Vice Chairman/President of Bromley Communications in 2005, and she simultaneously served as President of the Association of Hispanic Advertising Agencies (AHAA), now known as the Hispanic Marketing Council (HMC).
Her impressive trajectory doesn't stop there. Aida is now President of The Levitan Group and ArtesMiami, and she has remained an active and committed Hispanic consumer champion and cultural philanthropist throughout her career. In 2010, Levitan was appointed by President Obama and Congress to the national commission on the creation of the Smithsonian Latino Museum. And in 2013, she became vice chair of the Smithsonian Latino Center. Most recently, she served as Chair of FACE (Facts About Cuban Exiles) and the University of Miami Cuban Heritage Collection Amigos Board, and she continues to serve as Trustee Emerita of the Perez Art Museum and as board member of the IMPAC FUND and the Cultural Center of Spain in Miami.
It's clear that Levitán has worked hard to achieve her success and is a true luchadora. We couldn't be more delighted to recognize her in this group of powerful Latinas in Advertising and PR!