Brands start Dancing to EDM to Connect with Hispanic Millennials [INSIGHT]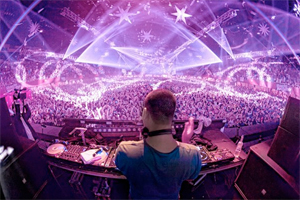 Electronic Dance Music is taking the music industry by storm attracting the much coveted and elusive Millennial audience, including Hispanics.
Tiesto, Skrillex, Calvin Harris, David Guetta, Afrojack and Avicii are not household names to anyone 35 years old and over. Skrillex and Afrojack may sound like appliance names or an over the counter hair gel to older folks. But to Millennials (generally defined as Americans born between 1982 and sometime in the early 2000′s), these Electronic Dance Music (EDM) DJs are celebrities producing music that is defining and giving an identity to their generation. The celebrity EDM DJs in this list published by Forbes command annual earnings that range from $13 million all the way to the $66 million generated by cash king, Calvin Harris.
EDM is a newer term for a genre of music widely known as "House Music," which traces its roots to the 80s in Chicago. The term "House Music" is thought to have originated as a reference to a Chicago nightclub called The Warehouse, which existed from 1977 to 1983. Nightclub goers were mostly black and Latino and came to dance to music played by the "Godfather of House," the club's beloved resident DJ, Frankie Knuckles.
"House music" (or EDM) remained relatively on the fringe in the U.S. throughout the last three decades, with its existence relegated mainly to nightclubs in cities like Miami and New York. The genre, however, was well received in Europe where it gained mass popularity in the 90s. It was only within the last few years that EDM has reached similar popularity in the U.S.
"If you're 15 to 25 years old now, this is your rock 'n' roll," reads a report by EDM marketing firm Frukt.
According to Nielsen, a vast 62% of U.S. Millennials (aged 15-24) actively listen to EDM, with 76% listening at parties and 56% at bars/clubs, highlighting the inherent social element that forms an essential part of the genre's youth appeal.
"For the disillusioned Millennial generation, EDM is their defining platform, a passionate channel bursting with contagious, spontaneous energy, and brands that can add tangible value to the experience have much to gain here," reads a Nielsen report on the topic.
EDM live concerts and experiential events are generating massive crowds, and EDM hit songs are breaking into the pop music charts. These include mega hits like Calvin Harris' "Summer," DJ Snake & Lil Jon's "Turn Down For What," and "Wasted," by Tiesto.
The EDM nightclub music was huge in Europe starting in the 90s and gradually and steadily began to expand its reach and appeal to influential cities in the United States including Las Vegas, Miami and New York for years. Now, the EDM craze is spreading nationwide—and not just at the clubs.
EDM has also mushroomed into numerous festivals and live events; many of which are globally known. Such is the case of the Electric Daisy Carnival. Other wildly successful EDM festivals include Tomorrowland, Ultra Music Festival, Electric Zoo and Mad Decent Block Party.
Showcasing the power of the EDM offering and how eager Corporate America is to connect with Millennial consumers, leading EDM producer and promoter SFX Entertainment recently sealed an unprecedented and non-conventional partnership with MasterCard. As part of the deal, MasterCard will be ubiquitous on all SFX properties but in a manner that is not intrusive or disruptive to fans' experience. "We're not interested in saying, 'You must do this,' we're at the table together making sure the experience is better for the fans," said Robert F.X. Sillerman, SFX chairman and CEO. "From a selfish and economic point-of-view, this is not just us grabbing a check. This is us working together, and the potential is huge." SFX's EDM live event properties include Tomorrowland, Mysteryland, Stereosonic and Sensation, and the company continues to expand and acquire new events and companies.
In fact, SFX does not call electronic dance music EDM, but rather EMC, "Electronic Music Culture," alluding to the genre's powerful cultural influence on the lifestyles of the Millennial generation. To support its position SFX points out to the distinct culture that EDM fans have created for themselves. A great example is the unique lingo EDM fans employ, from "Rave," "Plur," "Kandi," and "Dubstep," just to name a few. I get "turnt" just thinking about it.
EDM encapsulates the sounds, words, sayings, jokes, expressions, online-offline experience of the Millennials generation. It is a music genre that is captivating this audience broadly, including Hispanic Millennials, the fastest growing multicultural sub-segment in the country.
Reflecting this broad, cross-cultural appeal Mun2s and 7UP recently sealed a deal to support a new EDM TV program specifically designed for Latino Millennials. In addition, Dr Pepper Snapple Group is also aligning with electronic dance music DJ Tiesto. The #7 x 7Up experiential marketing campaign showcases seven electronic dance music artists, including DJ Tiesto, who is featured in the "Light It Up" TV campaign. Though Tiesto isn't Hispanic, research showed that he's by far the most popular EDM artist among Latino audiences.
Connecting with Millennials can be a challenge for all brands, but this is especially true of Hispanic Millennials who often blend seamlessly between the "general market" and their Latin culture. EDM provides brands an opportunity to engage with the Hispanic Millennial in an authentic and relevant place, whether it's at a live event, or through an experiential campaign.
Key Takeaways for marketers considering investing in EDM:
EDM is followed by a vast 62% of U.S. Millennials including a whopping 29% of Hispanic Millennials, making for almost the perfect overall music platform to connect with this coveted demographic.
EDM is more than a music genre for Millennials.
EDM is the"music of their generation," a unique music experience they can call their own.EDM is young, creative, innovative and best enjoyed as a shared social and digital experience.
Cardenas Marketing Network is actively leveraging the broad appeal of EDM music with all Millennial demographics. In terms of Hispanic Millennials, CMN typically works with EDM artists who over-index in social media popularity with Hispanics and have a track record of success in top U.S. Hispanic geographic markets.
It is important to note that given that Hispanics are 100% Latino and 100% American,the strong appeal of EDM does not escape them. Latino Millennials are just as enthralled and "turnt" with EDM as any other Millennial consumer. No need for language translations here. EDM's larger generational cultural language is spoken by all Millennials. [Como se dice "Plur"? Wink, wink].
About Cardenas Marketing Network
Cardenas Marketing Network a multicultural experiential, live events and digital marketing agency that connects consumers and brands through their passion points of music, sports and cultural pride. The award-winning experiential, live events and digital agency has been recognized by Event Marketer's Top Agency "It List," Chief Marketer's "Promo 100" and Crain's Chicago Business "Fast 50," among others, for its service to such clients as Anheuser-Busch InBev, H&R Block, Johnson & Johnson, Nike, Sherwin-Williams and Tel-Cel. For more information please visit: CMNevents.com
About the Author
Christian Banach is a music sponsorship and experiential marketing expert at Cardenas Marketing Network. You can find him on LinkedIn, Google+, and Twitter.