Broadcasting & Cable Hall of Fame Gala honors Emilio Azcarraga of Grupo Televisa

The Broadcasting & Cable Hall of Fame named Emilio Azcarraga, President, CEO and Chairman, Grupo Televisa as one of twelve honorees to its class of 2014. Azcarraga joins over 350 honorees previously recognized by Broadcasting & Cable Magazine. The 24th Annual Gala inducting this year's class will be Monday, October 20 at the Waldorf-Astoria in New York City.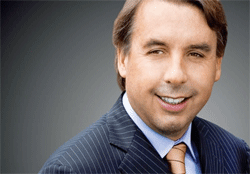 With over 20 years of broadcast experience, Azcarraga is head of the world's foremost Spanish-language media corporation. Under his leadership, Televisa expanded into an international giant that produces more than 93,000 hours of original programming distributed through a network of broadcast TV, pay TV, telephony and digital platforms. A 2010 agreement with Univision laid the groundwork for an investment of $1.2 billion for a 5% stake that strengthened the alliance. Today, Televisa is arguably the leader of Spanish-language content worldwide with viewers in more than 100 countries including an audience of 52 million Hispanics in the U.S.
Azcarraga balances his vision of a global Televisa with an engagement with social responsibility. In 2001 he created Fundacion Televisa, providing life-changing opportunities in education, health, values and the environment. Through Endeavor Mexico, he mentored a new generation of Mexican entrepreneurs and through ARCA has established a dialog with the creative industry in Mexico.
Emilio Azcarraga is joined by eleven other notable and influential industry leaders. The complete list of 2014 Hall of Fame inductees includes:
• Emilio Azcarraga –Chairman of the Board, President and CEO, Grupo Televisa
• Sean R.H. Bratches – EVP Sales and Marketing, ESPN
• Italia Commisso Weinand – EVP, Programming and Human Resources, Mediacom Communications Corp.
• Family Feud, FremantleMedia
• Doug Herzog – President, Viacom Entertainment Group
• Bill Koenigsberg – President, CEO and Founder, Horizon Media
• Mark Lazarus – Chairman, NBC Sports Group
• Mad Men, AMC Networks
• David F. Poltrack – Chief Research Officer, CBS Corp. President, CBS Vision
• Robin Roberts – Co-Anchor, Good Morning America
• Bud Selig – Commissioner, Major League Baseball
• Perry A. Sook – Chairman, President and CEO, Nexstar Broadcasting Group
"The Hall of Fame gala is always one of the most anticipated and exciting events of the year," said Bill McGorry, Chairman of the Broadcasting & Cable Hall of Fame. "It is our privilege to welcome Emilio Azcarraga's into the Hall of Fame among his fellow luminaries from the electronic arts."
"Our business continues to thrive in large measure due to the dynamic visionaries who continually demand and achieve new levels of excellence and innovation," added Louis Hillelson, VP/Group Publisher, Broadcasting & Cable. "We are proud to acknowledge Emilio Azcarraga for his tireless dedication and relentless push for innovation. We look forward to joining him for a wonderful evening of celebration."