Digital to Account for 40% of Out-of-Home Ad Spending in 2015

Advertisers are increasingly moving their spending from traditional media to digital formats, and outdoor ads are no exception. Advertisers in the US will spend $2.96 billion on digital out-of-home (DOOH) advertising this year, according to the inaugural breakout forecast from eMarketer.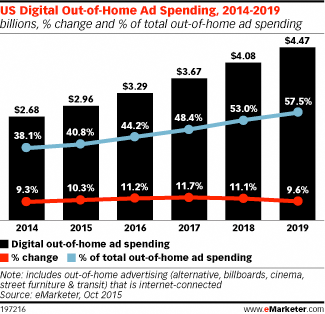 Digital will make up 40.8% of total out-of-home (OOH) ad spending in 2015, up from 38.1% in 2014. By 2018, DOOH will capture 53.0% of total OOH ad spending in the US, or $4.08 billion.
eMarketer defines DOOH paid media as advertising delivered via internet-connected digital screens outside the home. In eMarketer's breakouts for total media ad spending, DOOH is included as a subset of OOH advertising (formerly "outdoor") rather than digital advertising.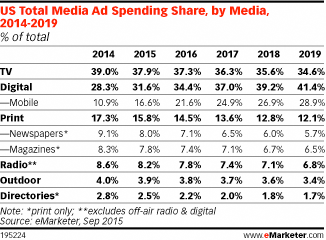 DOOH will be among the fastest-growing paid media channels with respect to spending, behind total digital and mobile. DOOH will experience double-digit growth for the next several years.
"Digital screens outside the home carrying paid media are proliferating, from large digital billboards along highways to interactive touchscreens in restaurants, bars, malls, airports, taxi cabs and many other locations," said eMarketer analyst Bryan Yeager. "Advertisers will direct spending into DOOH media as more inventory comes online, buying becomes more flexible, automated targeting and measurement capabilities improve, and OOH media firms increasingly push advertisers toward their digital offerings."
US Total Media Ad Spending Share, by Media, 2014-2019 (% of total)
However, even while digital drives growth within OOH advertising, overall OOH ad spending's share of total media spending will shrink slightly in the coming years. In 2015, OOH will account for 3.9% of total media spending in the US. That share will drop by 0.1 percentage points each year through 2018. The trend is being driven by the faster growth in digital advertising served to internet-connected consumer devices, including digital display ads, search and mobile advertising.
"Digital growth won't be enough to increase OOH media's share of total paid media spending in the US, because eMarketer assumes that funding for DOOH will primarily come from existing traditional OOH budgets that won't be replaced. Remaining OOH dollars will be gradually moved to a mix of other digital channels," said Yeager.
"That said, new entrants and initiatives like LinkNYC, which will create thousands of new interactive OOH screens in New York City over the next several years, could move the needle more."
Courtesy eMarketer