Digital Music Sector Mixes It Up

Radio-style services are amping up their streaming offerings to give users control over what they listen to; at the same time, streaming services are pushing to provide more programmed experiences for users, who don't always want to create their own playlists.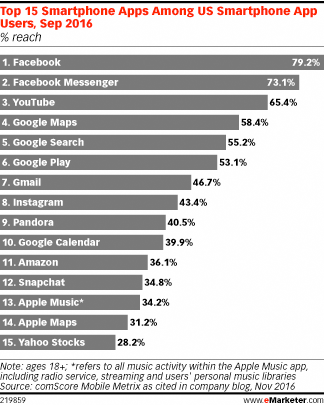 With its new Premium option, which will carry the now-standard price tag of $10 a month, Pandora touts on-demand, ad free streaming and the ability to save songs and albums offline, similar to other all-you-can-eat streaming services. What sets Pandora Premium apart is its ability to suggest personalized songs for playlists, music searches and browsing based on individual listening history.
Pandora is the clear leader among all digital radio services. According to September 2016 data from comScore Mobile Metrix, Pandora is the ninth most popular smartphone app among US adult smartphone users, with a reach of 40.5% of US smartphone users. Apple Music is the only other music streaming app in the top 15, with a reach of 34.2%.
Users are already spending a significant amount of time listening to Pandora, even before its launch of Premium. eMarketer estimates that, on average, US adults spend more than 11 minutes per day listening to Pandora, which works out to more than 3% of all digital time. The average includes adults who don't use Pandora; among Pandora users, time spent listening to the service totals 46 minutes a day.
The announcement of Pandora Premium follows its September 2016 launch of Pandora Plus, an updated version of its Pandora One offering, which costs users $5 per month. Plus users are able to listen to Pandora's radio service ad-free at higher quality streams, with unlimited skips and replays, and includes an offline-listening option.
Pandora Premium's unveiling came on the heels of iHeartRadio's announcement of two new services, iHeartRadio Plus and iHeartRadio All Access. Like Pandora Plus, iHeartRadio Plus will let users search, save, replay and skip songs while listening to a live digital radio stream for $4.99 per month.
iHeartRadio All Access—the company's answer to all-you-can-eat streaming—will include an on-demand library where users can listen to songs they've searched for, in addition to getting access to all of the features of its Plus package, for $9.99 a month. iHeartRadio hopes to attract audiences who have not yet signed up for other streaming services such as Spotify or Pandora, specifically with its continued offering of letting users live stream 850 terrestrial radio stations across the country.
Courtesy of eMarketer