Do Good, Covid-relevant Ads Take A Step Forward, Multicultural Ads A Step Backward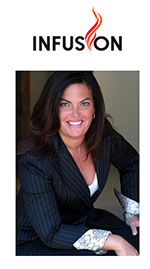 By Liz Castells-Heard, CEO & Chief Strategy Officer, INFUSION
What a joy to watch Brady rise again without the backing of the New England machine. His indubitable fight for triumph, passion, tenacity and dedication to team work inspires us and shows that we can overcome anything and succeed, even in our Covid-challenged times. Like him, many brands stepped up to the goal line to successfully underscore our Covid 'Zoomed-in' lifestyle, accelerated digital transformation, AI life enhancements, virtual experiences, the contactless economy's convenience, the importance of Brand care, authenticity, community-minded 'locavore', youth, green and economic do-good deeds, and bringing people together. And there was an amazing range of creativity displayed, which I know as an agency owner, had to be done virtually or semi-virtually during the pandemic with a lot of persistence and passion.
However, from my lens as a multicultural marketing leader, I witnessed the continued racial whitening, check-the-box multi-colored casting Benetton blended ads, and cookie-cutter solidarity messaging for the news cycle. Despite some Blacks in lead roles, there was less cultural relevance across ads and less cultural authenticity than normal ads.
Hispanics were conspicuously left out, the largest ethnicity and highest business growth segment, except in Huggies' multi-ethnic real babies born this Super Bowl Sunday.
Surprisingly, LGBT and Ungendered was also absent, except Toyota featuring Paralympic swimmer Jessica Long.
So kudos to those showcasing Black lead roles like Logitech and Lil Nas X Defy Logic on Black creators, artists and activists, Rockstar Energy's Lil Baby doing good, Michelob Ultra's organic seltzer with Don Cheadle revealing the fakes, Klarna's Buy now, pay later, Squarespace with Parton's reimagined '5 to 9' anthem for after-hours passion projects and side hustles, DoorDash with Daveed Diggs and Sesame Street, Amazon's Alexa in Michael Jordan human form, and T-Mobile's 'Don't trust your family drama to just any network' with Anthony Anderson and real-life mom.
Many Superbowl first-timers at least had a meaningful ethnic mix like Indeed's 'we get the ready jobs' including a Black female software engineer that brilliantly portrayed the powerful emotional journey of today's job reality, Robinhood's 'we are all investors' leveraging online trading's growth, Scotts Miracle gro's 'Keep growing', Cointreau saluting small restaurateurs, Dexcom diabetes AI solutions with Nick Jonas, Hellman's 'make taste not waste', Guaranteed Rate's DTC brand showcasing athletes, Mercari e-commerce dramatizing the painful car buying process, diverse WeatherTech employees 'working hard together means something here in America', and Shift4Shop giving everyone a chance to be a part of the first civilian mission to space.
Being ethnic-neutral for a moment, there were relatable ads that kept universal human needs at heart, like Jeep's astonishing ad with Springsteen on finding the middle and encouraging all of us to be united whether red or blue, Bud Light's lemonade-flavored seltzer's whimsical take on DIY'ers 'lemons' and hardships, Hands-free electric Cadillac's 'Edward Scissorhands' showing even the misunderstood rise, Disney's $12.99 streaming bundle delivering fun for all, Bass Pro Shops and Cabela celebrating the outdoors as the place to turn to in these trying times, M&M's 'come together' as an antidote for life's irritations, AB's 'Let's grab a beer' about its sharing role during frustrating and sad moments, and Michelob Ultra's 'It's only worth it if you enjoy it.'
Others brought brand 'Virtualtainment' and creative challenges, like Mt. Dew's big promos with $1M payouts to help youth recharge, Cheetos scan for free 3-D chips with an embedded snapchat code, Verizon 5G enabling co-watching the game, from many angles and next gen stats, Tide's computer-generated 'Jason Alexander Hoodie', and Doritos 3D Crunch helping life's difficulties for #FlatMatthew.
And I salute brands championing causes like Coke, Planters and Budweiser who re-allocated their Superbowl millions to Covid vaccine support, Olay to International Women's Day, Kia to its Accelerate the Food Initiative for American youth, and even the NFL converting all stadiums to Covid vaccine stations. But sadly, on the Multicultural front, there's much work to be done in Corporate America, and it's not just about D&I, being sensitive, making a social statement, or hiring ethnic freelancers, because it's the reality of marketing today and should be as natural as factoring in Whites.
Multicultural marketing is a business imperative, where they are accounted for from opportunity sizing, strategic planning, budgets and marketing to advertising that reflects the customer mix and inclusive of a Multicultural internal central unit, agency partners, and. production companies.
The future of our industry rests not in just in tech, AI or economic advancements, but in who will tell the Multiculturals stories that bring their brands to life by bringing us all to the richest and truest definition of who Multiculturals are and hope to be. And who we all hope to be.