EstrellaTV's 'TENGO TALENTO, MUCHO TALENTO' returns on MONDAY, APRIL 17 AT 9 P.M./8 P.M. CT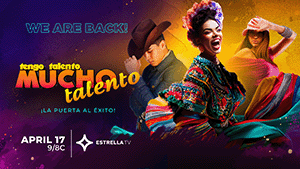 Season 27 to air Monday-Thursday; Record Number of Contestants Audition to be part of Season 27; Over 20 cities hosted In-Person Auditions, in addition to Virtual Auditions
Tengo Talento, Mucho Talento returns to EstrellaTV, the Spanish language television and digital network of Estrella Media, on Monday April 17. Season 27 of the award-winning entertainment talent competition series will air Monday to Thursday at 9 p.m./8 p.m. CT. The series will be available on EstrellaTV, as well as its digital platforms including the EstrellaTV app, available on Roku and FireTV, among others.
"Fans are excited, and we are excited to have 'Tengo Talento, Mucho Talento' return to EstrellaTV," said Enrique Guillen, Chief Content Officer, Estrella Media. "This season we will have had over 2000 contestants audition in-person and online. The response has been spectacular; it's fandom at its best. We cannot wait to get season 27 started and see who takes the prize in the finale."
Season 27 airs April 17 to June 7. The show will be produced at Estrella's studios in Burbank, CA. In-person auditions have taken place in Anaheim, New York, Dallas, Houston, San Antonio, El Paso, Orlando, Tampa, Miami, San Francisco, Albuquerque, Las Vegas, Monterrey-Salinas, Fresno and Denver. Remaining cities include Phoenix, Tucson, Nashville, San Diego, Los Angeles, and Sacramento. Cities are subject to change.
Tengo, Talento, Mucho Talento is the longest-running talent competition show on U.S. Spanish-language television. Thousands of contestants audition from across the country and Mexico in the hopes of winning the title of America's next big Latin entertainment star. The season 27 winner will earn a $100,000 prize and the opportunity for a recording contract with Estrella Media Music Entertainment (EMME).