Free Standing Insert (FSI) coupons offered in 2015 increased 3.7 percent to $515 billion

Consumers were offered more than $515 billion in consumer incentives through Free Standing Insert (FSI) coupons in 2015, an increase of 3.7 percent compared to the previous year, according to Kantar Media. Although the total number of pages distributed fell by 8.1 percent due in part to decreases in FSI pages that don't include coupons, the number of coupons circulated increased nominally versus the prior year, and combined with higher face value led to growth in dollars circulated.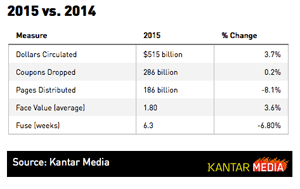 "With a broad variety of channels to choose from, including digital coupons and shopping apps amongst others, manufacturers and retailers are fine-tuning their respective strategies. Print coupons still remain a critical promotional tool, but are being used more efficiently: While there are fewer pages being distributed, there are more coupons per page containing higher value offers," said Lisa Ekstedt, Director of Custom Solutions. "Manufacturers are further limiting their financial exposure by reducing expiration lengths while still benefiting from the advertising impact of the FSI coupon." Indeed, decreases in Direct Response advertising and retailer FSI promotion events, which include a featured price and net price after the coupon savings ultimately led to a higher share of voice for FSI coupons.
FSI coupon events were distributed on 47 of the 52 Sundays in 2015. The "New Year" promotion week of January 4th had the greatest activity with a weighted average circulation of 126 pages. The week of March 1st, illustrating the importance of aligning with primary monthly pay cycles and the "pre-Super Bowl" promotion week of January 25th, were the second and third most heavily weighted weeks with 125 and 123 pages respectively.
Activity Continues to Shift from Food to Non-Food within FSI
Non-Food categories distributed more than 197 billion coupons, up 3.3 percent versus a year ago. This was driven by a 8.2 percent increase in Health Care and a 19.8 percent increase in Other Packaged Goods (such as Batteries, Car Care, Markers, etc.) areas. Non-Food has had steady growth in Coupons Dropped with increases each year for the past four years. Non-Food categories increased the overall share of Coupons Dropped by 2 points to 69 percent in 2015. Food categories distributed more than 89 billion coupons, a 5.9 percent decrease from last year, led by the 17.8 percent decline for the Frozen Foods area. The average number of coupons per page for CPG products increased for the first time in five years from 1.8 coupons per page to 2.0.
"With higher priced items, Non-Food advertisers are able to run higher value coupon offers, which are more likely to drive a retail trip and will more quickly increase the value of the shopper's basket. FSI coupons provide a way of rewarding the consumer for engaging with their offer through a high value purchase incentive," said Ekstedt.
Manufacturers are increasing the value of the offers being delivered to shoppers in both the Non-Food and Food segments. For the Non-Food segment, Weighted Average Face Value (WAFV), which is the average of the dollar values actually shown on the coupon, increased 1.6 percent to $2.08 while values within the Food segment increased 5.0 percent to $1.19. FSI coupon offers requiring the purchase of multiple items to redeem the coupon (Multiple Purchase offers) declined to represent 25.9 percent of total offers within the CPG segment. This is the lowest level of Multiple Purchase offers observed since 2010.
With higher face values and fewer offers requiring the purchase of multiple items, the Weighted Average Value per Unit (WAVPU), or the average value of the offers on a per unit basis after multiple purchase requirements are considered, increased across both Food and Non-Food segments. Following a steady downward trend that began in 2005, Expiration lengths continued to decline, down 6.8 percent to 6.3 weeks for the total CPG category. Non-Food was the major contributor to this decline with Expiration lengths decreasing 8.9 percent to 5.4 weeks.

Top Retailers Driving Trends in Retail Pages Circulated
Overall, 350 manufacturers participated across 121 retailers but retail pages distributed decreased 24.9 percent in 2015.The top ten retailers represented 80.8 percent share of the total retail promotion pages distributed. Four of the top ten retailers increased FSI Pages Circulated in 2015, while the remaining six of the top ten each had sharp declines. Walmart retained the top spot despite a 33.4 percent decrease to 5.8 billion pages. Target continued to hold the second spot in spite of a 25.2 percent decrease to 3.1 billion pages and Walgreens maintained the third spot in the face of a 38.4 percent decrease to 2.2 billion pages. Publix and Rite Aid both increased their participation to rank among the top ten retailers in 2015.
"Walmart's focus on new and exclusive offers and Target's focus on their Cartwheel app to distribute offers contributed to the decline in overall retailer pages circulated versus the peak year achieved in 2014," stated Ekstedt, "allowing other retailers like Dollar General and CVS who increased their participation to capture a greater share of trips and coupon redemption."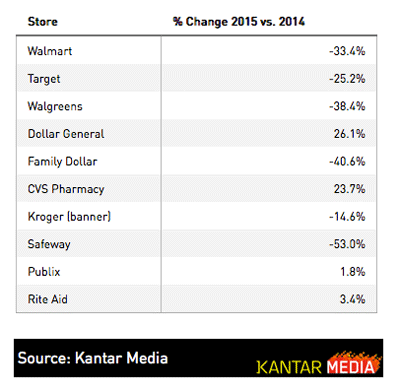 "With FSI coupons, advertisers are able to modify their strategy in many ways, including participating in retail promotion, aligning events with consumer pay periods and key holidays and leveraging higher face value offers to engage with consumers. These trends show that FSI coupons continue to be an important part of the CPG manufacturer tool box," concluded Ekstedt.