Green Acres Nursery & Supply selects BeautifulBeast to help their business bloom

The cross-cultural agency BeautifulBeast is assisting with the launch of the newest Green Acres Nursery & Supply store in Texas while growing its brand on the West Coast through a digital marketing campaign. The agency is collaborating on a digital communication strategy and its implementation for this major effort. "Green Acres is your local, independent garden center.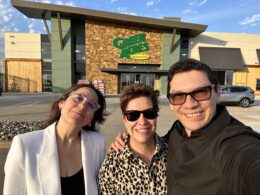 We opened our doors in 2003 with our first garden center in California. Since then, we've expanded to include seven locations in the greater Sacramento area, and now we're very excited to expand our growth, starting in Irving, Texas. We are already working with the agency, and we couldn't be happier about the results," declared Tami Kint, Director of Marketing for Green Acres Nursery & Supply.
"At BeautifulBeast, we take our responsibility to Green Acres very seriously. Our digital performance marketing campaigns are getting great results, and through data, we're also discovering many insights and business opportunities for the brand. This is a significant endeavor at this time for the company, and we are honored to be able to work with them and collaborate on their success," said Mauricio Del Castillo, Chief Digital Officer of the agency.
Green Acres Nursery & Supply is one of a kind, as it brings a unique plant nursery and horticultural know-how to the growing metropolitan area of Irving. Plant lovers can stroll through acres of green, shop a selection that's suited for Texas and get their questions answered by their friendly, knowledgeable team. Their unique plant and product selection set them apart from the competition.
"And people can feel good knowing they're supporting a neighbor with a culture committed to enhancing the Irving community," added Kint.
"Green Acres is an amazing brand. It represents happiness, hope, and community. We believe now is the perfect time to seed the brand in everyone's hearts. We have a lot of experience in the category, so it's a great opportunity to dig into; we're already nurturing big ideas in collaboration with their team!" added Flor Leibaschoff, Chief Creative Officer of BeautifulBeast.