Hispanic Public Relations Association (HPRA) Launches Orange County, CA Chapter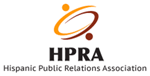 The Hispanic Public Relations Association (HPRA) announced the launch of its newest chapter, HPRA Orange County (CA). HPRA OC joins four others regional chapters part of national trade organization which launched in 2012. HPRA was first established in Los Angeles in 1984 to serve the burgeoning local population of Hispanic market practitioners.
The new HPRA chapter also announced its 2020 Executive Board of Directors. They include President Sandra Bernardo, APR, Senior Communications Manager at Experian; Vice President Lizz Mishreki, APR, Director of Public Relations at Concordia University Irvine; Secretary Gladys Hernandez, Director of Marketing and Advocacy at Habitat for Humanity of Orange County; and Treasurer Betty Franco Martinez, Account Executive at FSB Public Affairs.
"Our chapter is here to advance the large cohort of Hispanic communications professionals in Orange County and lead the conversation about the Hispanic market—where culture, community and communications intersect," said Bernardo. "We want to help organizations and communications professionals stay ahead of the curve and remain competitive, which requires understanding of the evolving demographic landscape. Whether members are Hispanic, work with the Hispanic market, or serve the Hispanic community, HPRA OC will equip members to lead sound communication strategies—for internal or external audiences—that reflect today's diverse nation."
"The state of California has great potential for wide expansion of HPRA, and another chapter in the Southern California region is an excellent fit for our national organization," said HPRA National President Andy Checo. "Orange County is home to major brands, as well as many public relations and advertising agencies that serve the U.S. Hispanic market, so we believe the OC chapter is positioned to thrive."