Influential Latino film director León Ichaso passes in L. A.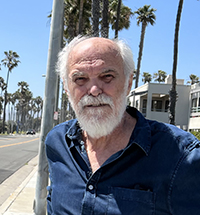 León Ichaso, the Latino film director who had a hand in the influential television series "Miami Vice," passed away yesterday in Los Angeles, CA., where he lived.
Born in Havana in 1948, Ichaso was probably the most prolific among Hispanic filmmakers in Hollywood with a film and made- for-TV-film career that spans over thirty years of helming feature-length content for major networks as well as for Showtime, FOX, HBO and others. He had directed, among others, Sidney Poitier, Rita Moreno, Benjamin Bratt, Mandy Patinkin, Wesley Snipes, Mimi Rogers, Carroll Baker and Barbara Hershey.
In 2004, he directed Jennifer López and Marc Anthony in a semi-biographical picture about Puerto Rican salsa singer Héctor Lavoe. "El Cantante" has become a cult movie among music aficionados.
Ichaso's artistic stamp combines a passionate attraction to street music and an inclination for the marginal, quirky, sometimes self-destructive characters whose dreams are shattered by inevitable fatalistic realities. "Crossover Dreams," a film that helped launch the international career of Panamanian salsa-singer-turned-screen-actor Ruben Blades, tells the story of a New York-based Latino singer who wants to find total success by crossing over to mainstream America. The term "crossover" quickly entered the pop music category parlance while, inadvertently, "Crossover Dreams" would slowly turn prophetic of the likes of Blades himself, Ricky Martin, Marc Anthony, Shakira, Rosalía, and Bad Bunny who have somehow blurred language and ethnic boundary lines.
A raconteur of skillful pulse and amusing style, Ichaso became the self-appointed storyteller of New York's El Barrio working with Puerto Rican and Dominican subjects and talent with the same dexterity and zest that he exhibited for dealing with Cuban stories and characters. His film "El Súper," based on an off-off-Broadway play was a bittersweet comedy about a Cuban exile who dealt with incurable nostalgia and barriers both cultural and linguistic.
He also had a career as a director of television commercials, chiefly for GOYA Foods. Among them, in particular, a popular one for Coco Goya, the cream of coconut widely used for Latin desserts and tropical drinks, in which a dapperly-dressed, suave character whose head is in the form of a Goya can, becomes the uncanny and funny life of the party.
In a series of spots for Budweiser beer with comedian John Leguizamo, Ichaso extracted from the actor the wildest of his alter egos for memorable mischief. Humor, indeed, was an important part of Ichaso's career having created some short-filmed stories at the request of producer Lorne Michaels for NBC's Saturday Night Life.
Ichaso, who had started his career as an independent filmmaker, had his beginnings in advertising as a copywriter at two pioneering Hispanic ad agencies, SAMS( Spanish Advertising and Marketing Services) and Conill Advertising.