Intriago named VP, Client Partnerships at Captura Group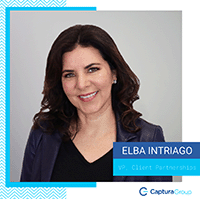 Captura Group named Elba Intriago as Vice President of Client Partnerships.
Recognized by the American Advertising Federation as one of the top 20 women in advertising in Dallas, Elba brings deep expertise, passion and business acumen to Captura Group. Elba is an advertising leader, particularly in the multicultural space specializing in marketing to U.S. Hispanics. She has successfully led brands including McDonald's, Anheuser-Busch, Boost Mobile, Avocados From Mexico, Ocean Spray, Visionworks, Lincoln and Advance Auto Parts.
Intriago will oversee the Client Partnership at Captura Group, with a focus on driving business results for our clients. "I'm beyond thrilled to count on Elba to lead our client partnerships. She is a proven leader with a trajectory of success" explained Walter Boza, President and General Manager of Captura Group. "Elba and the organization share the vision that to drive business results for our clients we must continue to build long term partnerships with our clients," added Boza.
"I am thrilled to join Captura Group at an exciting time in the company's growth and look forward to leveraging my experience to provide additional strategic value to Captura's current and future client partners", said Elba.
Elba will report directly to Boza and will be a key member of the leadership team driving the agency's vision forward. "Bringing Elba to Captura Group consolidates a first-class leadership team. We are seeing tremendous growth for clients who are partnering with us to employ our proven Hispanic and digital-first approach and anticipate this growth to continue to accelerate into the future. We will also continue to make strategic investments in the right talent and tools to help our clients harness the multicultural opportunity," said Boza.