Is your Brand one of 2022's Most Culturally Inclusive Hispanic Brands?

The Cultural Inclusion Accelerator™ in partnership with ANA AIMM celebrated the Most Culturally Inclusive Brands of 2022 after a massive of study of 716 ads from America's 100 leading brands gathering 250,000 evaluations across 104K respondents of Asian, Black, Hispanic, LGBTQ+, People with Disabilities, and White Non-Hispanics.
The ads were tested for ad effectiveness, cultural relevance per the Cultural Insights Impact Measure™, and for DEIB reflections per the DEI Accelerator™. The Hispanic Culturally Inclusive Brands is split for English Media Viewers and for Spanish Media Viewers, each inclusive of Bilinguals viewing media in either language. The rankings are very different and reveal many expected brand leaders and some surprising new brands.
Some expected brands did not make it into the top 50. Congratulations to Walmart for the 2022 top honor among Hispanic Spanish. Other top 10 Most Culturally Inclusive brands for Spanish media viewers include The Home Depot, Coca Cola, Lysol, Chevrolet, Wells Fargo, Corona, Wendy's, AARP, and Nestle. The top honor among Hispanic English media viewers went to a virtual tie shared by Colgate and Ulta Beauty. Other top 10 Most Culturally Inclusive brands for English media viewers include Neutrogena, Gatorade, Ad Council, Disney, Bacardi, Coca Cola, Champion, and Dove.
Below are two charts, the first one is the 2022 Hispanic Spanish Culturally Inclusive Brands, the second is the 2022 Hispanic English Culturally Inclusive Brands.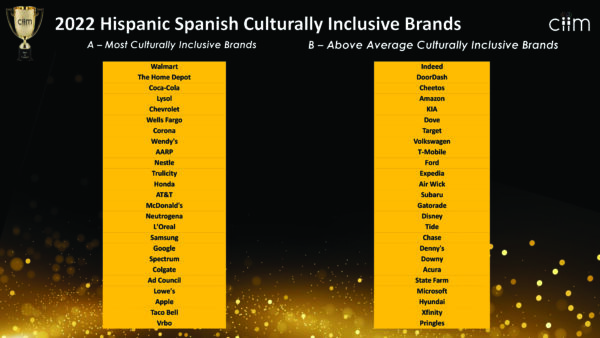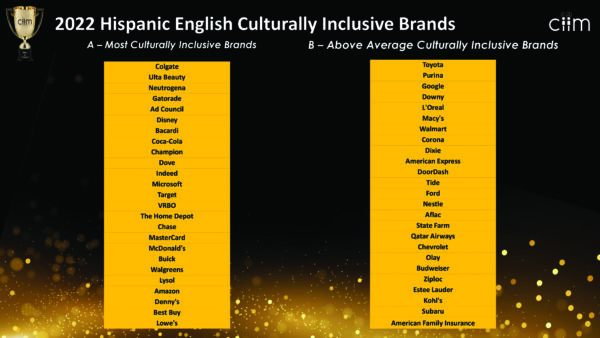 Find the awards recording with remarks from 7 CMO/Brand leaders and full methodology deck HERE.