Majority of US Internet Users will redeem Digital Coupons in 2013

Many US consumers adopted a frugal mindset during the recession, stretching their dollars with coupons found online as well as in newspapers and magazines. Print coupons still dominate, but digital coupons have quickly gained mainstream acceptance.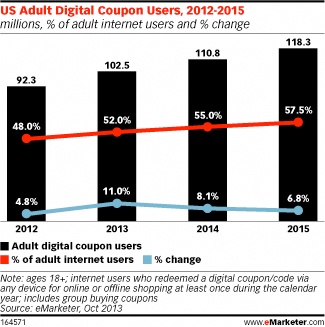 This year, more than half of US adult internet users, or 102.5 million people, will redeem a digital coupon via any device for either online or offline shopping. New data indicates that there was a significant increase in the number of digital coupon users during the first half of 2013. Based on this, eMarketer has increased our forecast for the US digital coupon audience beginning this year. We expect the number of people who redeem digital coupons to increase 11.0% this year, up from our previous estimate of 4.6%. New mobile coupon users will be the primary growth driver in the US digital coupon audience.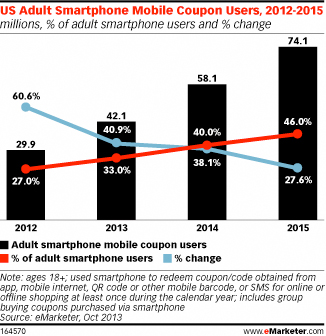 Mobile has played a significant part in digital couponing in 2013—more than 28% of people who own a mobile device redeemed a coupon this year. Nearly 70% of mobile coupon users will access coupons via smartphone. eMarketer has revised our projections for the number of US adult smartphone coupon users upward from our previous forecast to reflect the increase in digital coupon redemption during H1 2013. We expect one one-third of all smartphone users ages 18 and older, or 42.1 million people, to use a coupon obtained via app, mobile internet, mobile barcode or SMS this year. The US adult smartphone coupon user base is up 40.9% this year, following 60.6% growth in 2012. New smartphone users, as well as the growing popularity of new mobile apps, local deals, and the integration of couponing into social networks will help fuel increases.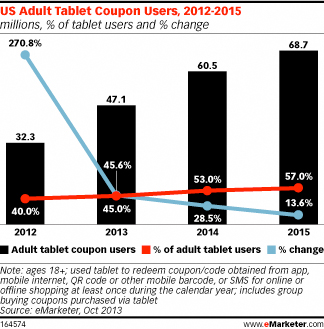 For the first time, eMarketer has included estimates for US adult tablet users in our digital coupon user forecast. Shopping is one of the most popular activities for tablet users, and, unsurprisingly, consumers are using tablets to find and redeem coupons, primarily at home. The number of tablet coupon users grew dramatically in 2012 as tablet usage crossed over to the mainstream market. This year, 47.1 million people ages 18 and older, or 45.0% of tablet users, will redeem a coupon obtained from an app, mobile internet, QR code, or SMS on a tablet. This is up 45.6% from 2012, and double-digit growth is anticipated through 2015. eMarketer expects that by this point, the tablet coupon user audience will be more than twice the size it was in 2012.
Courtesy of eMarketer