By Lili Gil Valletta, Co-founder XL Alliance & Media Contributor
As a former U.S. international student, I can personally relate to the uncertainties of arriving into a new country feeling clueless about confusing campus maps and a language barrier that made it extra challenging to integrate into life in America. Fast forward now and as a marketer who focuses on winning with multicultural audiences in America, I am realizing there is a golden nugget represented by the international-student-population as a viable incoming 'multicultural' market.

There are 764,495 international students who make the United States their home for higher education on an annual basis, according to a 2012 U.S. News survey. They account for about 3.5 percent of total higher education enrollment according to the UNESCO Institute of Statistics. Could it be possible that we, multicultural professionals, are missing out on this pipeline of multicultural consumers arriving daily into America? With increased talks of immigration reform and an emphasis on STEM students and jobs, the pool of international students may present a viable and rich audience of new 'consumers' in the American marketplace looking to learn about new products and services.
This is why after having an insightful conversations with YouVisit.com's co-founders I had an 'aha' marketing moment!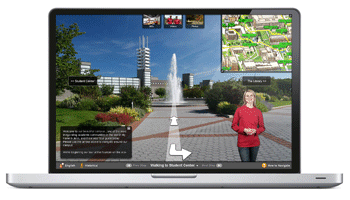 Abi Mandelbaum, Endri Tolka and Taher Baderkhan, all immigrants from different religious backgrounds and countries, including Colombia, Albania and Jordan respectively, came to the United States to live and fulfill one common American dream. When they met at the Brandeis University dorm rooms their big idea sparked which has now converted into the world's visual guide to higher education allowing prospective students to take walking tours of college campuses right from the comfort of their home, while providing colleges and universities with the ability to reach and attract prospective students worldwide.
Imagine match.com meets virtual real-estate tours guided by a friendly digital tour guide that helps match what a student with 500 colleges ranging from recognized institutions such as Yale, MIT and Stanford all the way to various community colleges from coast to coast. An average of 250,000 prospective students use the site for free on a monthly basis to access to the multilingual information and documentation they need to make a smart choice.
What if just as the founders identified this gap and opportunity, brands also plugged themselves into the "admissions" process for international students? I remember being somewhat clueless about everything from banking options, to buying a car to sorting through many new and unknown brands of cereal in the shopping isle! Are marketers recognizing and leveraging this in-flow of new customers who are young Millennials, multicultural and ready to embrace a new country and its respective services and products?
The founders have reported that since its launch, public schools have seen a 20 percent increase in inquiries and an increase in physical campus visits of 30 percent thanks to the tool; a statistic that may be likely to repeat if brands were to intercept these new comers at the right place offering them the right products and services they seek as they move to America.
YouVisit.com does not partner with brands yet; however they certainly spark an insight of two to those of us in marketing seeking to reach new audiences with relevance.
Lili Gil Valletta is an award-winning entrepreneur, multicultural marketing strategist, media contributor and co-founder of XL Alliance. She is a World Economic Forum Young Global Leader and member of the Harvard Kennedy School Women's Leadership Board. You can follow Lili on Twitter @LiliGil. For more insights and trends please visit HispanicAd.com.