Marqués González named Editor & Publisher of the Miami Herald and el Nuevo Herald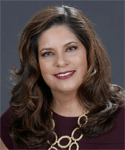 McClatchy named Aminda Marqués González as Editor and Publisher of the Miami Herald and el Nuevo Herald.
Marqués, currently Executive Editor of the Miami Herald, el Nuevo Herald and the Bradenton Herald, grew up in South Florida and began her journalism career in 1986 as an intern at the Miami Herald. She was recently inducted into the National Association of Hispanic Journalists Hall of Fame. During her tenure, the Miami Herald has won two Pulitzer Prizes and has been a finalist three times.
Most recently, she led the Miami Herald's coverage of youth gun violence in observance of the anniversary of the Parkland tragedy in an unprecedented collaboration with the non-profit The Trace and McClatchy newsrooms across the country.
Marqués is a 1986 graduate of the University of Florida, where she was honored in 2012 as an Alumni of Distinction by the College of Journalism and Communications. She serves on the board of the Pulitzer Prizes, is past president of the Florida Society of News Editors and is an advisory board member for the Lillian Lodge Kopenhaver Center for Women in Communication at Florida International University. Marqués will continue in the role of Executive Editor of the Bradenton Herald.
"We're thrilled to promote Mindy to this new position," said Forman. "Her distinguished accomplishments in journalism, her integrity and courageous leadership combine to make her one of the true stars of McClatchy," added Forman. "With her strong and dedicated team in Miami, we know she will continue her record of achievement."
"Growing up, my singular goal was to work at my hometown paper and I am excited to begin this new chapter leading the Miami Herald and el Nuevo Herald. I am so grateful for the support of all of my colleagues in Miami as I make this transition," commented Marqués González. "I've been lucky to have worked closely with Alex Villoch over the past five years and am grateful for her leadership and mentorship."